Hayward, Wisconsin & Lake Superior Fishing Report 9-7-20
And just like that, it's fall… With Labor Day in the rear view mirror, the change of seasons wasted no time arriving in northern Wisconsin. Cool evenings, rain, lots of wind, along with shortening days have dropped inland lake water temperatures into the 60's, and we've definitely seen signs of fall fishing patterns coming together. Here's what we've been up to over the last couple of weeks.
HAYWARD AREA LAKES
Cooling water temperatures have definitely triggered the walleyes to start feeding, and we've had some excellent days recently with several different approaches working. We're finding fish suspended over mud flats and also holding tight to bottom along hard/soft transitions at the base of structure like reefs, points, etc. 30′ – 35′ of water has been the most consistent regardless, and you can use a few different tactics to catch them. Trolling crawler harnesses over the mud flats is still effective while using snap weights to achieve the depth you want. Use a couple of different weight sizes until you figure out the depth that works. Bait Rigs Astro Brite Blades on quick change clevises helps you efficiently change colors and patterns depending on the day. If trolling isn't your thing, no worries. You can also anchor up or spot lock over schools of fish holding at the base of structures using slip bobbers with minnows or crawlers along with snap jigging spoons or baits like Herky Jerkys. Bruce Bandow & Mike Alff had one heck of a morning with us the other day. We had non stop action catching several fish in the mid 20″ range using all the approaches mentioned above. Kind of fun when it all comes together like that, and definitely good to see those eyes starting to strap on the feed bag.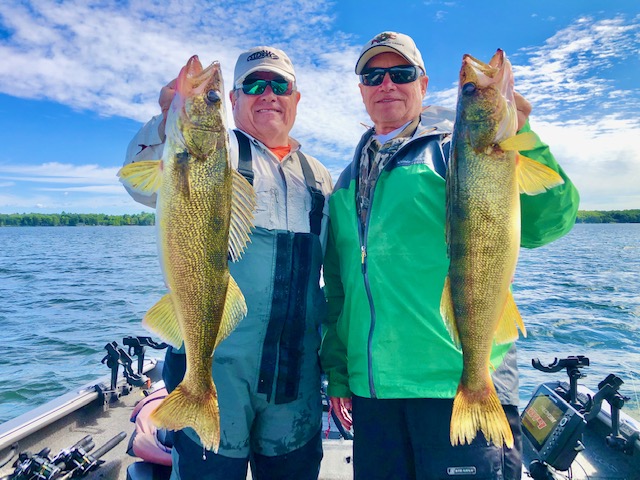 One of my favorite bites of the year is when big smallmouth bass migrate shallow for a few weeks in the fall, and we're starting to see it happen. We've been catching lots of fish in 10′ – 15′ of water lately, and I won't be surprised to see them even shallower very soon. Not only have we been catching lots of fish, but also some very big fish. Drop shotting plastics, NED Rigs, & Neko Rigs are still getting a few, but we'll be switching to more cast and retrieve methods like a Bait Rigs Grubmaster when these fish show up in shallower water. They should only be getting bigger over the next few weeks, but I honestly can't imagine a few of these things gaining an ounce. We must have had an abundance of forage on some of our lakes this summer, because some of them are just stuffed. Check out this ridiculous fish caught by George Hollow. That thing definitely needs to ease up at the dinner table before it explodes. Not sure what it weighed, but it was definitely one of the largest smallies I've seen in awhile.
Fall time is crappie time, and we love to get after them every chance we can. Several lakes around Hayward have fish moving toward deep mud flats right now. 20′ – 25′ seems to be the preferred depth. If there's a shallower thermocline, you'll find fish suspended just above it. On most lakes where thermoclines are pushing deeper we're finding them stacked along bottom. Locating fish can change day to day, and sometimes you have to do some searching. They can move around quite a bit, and you'll want to focus your effort around main lake basins. Trust your electronics, and stop the boat when you're seeing lots of fat little marks clustered along the bottom. Vertical fishing a Bait Rigs Panfish Cobra jig tipped with a small plastic on a tight line has been effective. We've also been getting a few while snapping small Herky Jerkys. Tom & Nancy Huckaba wanted to take a few fillets home for a fish fry, and it didn't take us long to get our 10 per person limit. Our mission was accomplished in less than an hour, and we spent the rest of our time putting on a catch and release clinic. Nancy has this jerk and reel thing down!
I haven't had the opportunity to musky fish in awhile, but that situation should be corrected by my next report. I have heard that activity is picking up lately, and I'm looking forward to getting back after those toothy critters with some of the new Whale Tails I received. It's a cool looking bait with tons of great reviews. No doubt it's going to be a fish catcher for us!
Lake Superior
Due to all of the wind we've had over the last couple of weeks, I just haven't been able to make it out on the big water. I'm not sure if we'll be able to get after the south shore walleyes any more this season, but we'll definitely be heading over to Chequamegon Bay in the near future to pick on those big smallies. Don't forget the fall trout and salmon run that should also be coming together soon after the next big rains begin pushing fish toward river and creek mouths. The bay is a tough place to beat this time of year, and we should have a little more Big Lake information on our next report for you.
Our good friend Terry Peterson was immortalized in the fishing world this weekend with his official induction into the National Fresh Water Fishing Hall of Fame. It was a well deserved and long overdue honor for a man who's career in guiding, tackle manufacturing, and the resort industry has spanned over 40 years. He's a master of his craft and a true gentleman. Our lakes, our fishing, and our lives are better because of Terry. Congratulations Professor!
When I first fished with Jon Schlussler many years ago it was freezing cold and snowing sideways at the end of October. We got on a crazy school of smallmouth bass that day, and they wouldn't stop eating. Jon and his buddy Steve Leach wore out the fish along with their guide. When we returned to the landing at the end of the day there was 3 inches of snow in my boat, and we looked like popsicles. Before they left, Jon told me to put 2 days in my calendar for him every fall, and we fished every year since. I saddened to hear that Jon passed away last week. He loved catching muskies and bass, and we always had a great time regardless of weather or fishing conditions. I can't imagine a fall without him in my boat, and he'll be deeply missed. I hope those muskies and smallies keep you busy Jonny, and the walleyes leave you alone. RIP my friend.
Long underwear, hand warmers, and stocking hats are packed. We're ready to go and looking forward to the next several weeks. Enjoy all of the sights, smells, and sounds of fall. Get out there, and catch a bunch of fish!