Terry Peterson - 
I met National Fresh Water Fishing Hall of Famer Terry Peterson in 1992, and he's been instrumental in my guiding career. Terry has guided in the Hayward Lakes region of Wisconsin for over 40 years, and his knowledge of these waters and the fish that inhabit them is unmatched. Terry's customer service and approach to fishing translates to any angler fortunate enough to be in his boat.  His captivating personality, contagious laugh, and uncanny ability to consistently catch fish have earned him a loyal following of customers that keeps him busy throughout the open water season.  Any day on the water spent with Terry is a good day for those fortunate to find an opening in his calendar.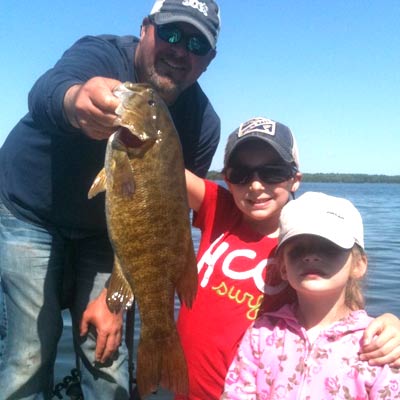 Dave Brown -
Dave Brown and I graduated from Ashland High School together, and we have been long time fishing partners. Dave is a lifelong native of northern Wisconsin, and his extensive knowledge of our lakes has translated into a truly impressive fishing career. He's earned a reputation for catching giant muskies and has landed several fish in the 50 inch class. Dave is also the National Sales Manager and videographer for Keyes Outdoors Productions, and he can frequently be viewed on Fox Sports North (FSN) and the World Fishing Network (WFN) tangling with big muskies during their weekly episodes. Dave's sense of humor and laid back approach keep his customers coming back year after year.
Josh Teigen -
Northern Wisconsin native and U.S.C.G. Charter Captain Josh Teigen has an incredible enthusiasm and passion for fishing both on open water and on the ice. Growing up on our local lakes has given Josh an intimate knowledge of our fisheries, and he takes every opportunity possible to share it with those that fish with him. Josh started Josh Teigen's Guide Service in 2012, and we received our U.S. Coast Guard license together in 2013. By spending countless hours fishing and scouting for the hot bite throughout the year, he gives his customers the best opportunity possible to have a fun, productive, and educational experience. Josh is a hard working and enthusiastic guy with a great personality that will give you everything he's got during your trip.
Aron Kastern -
Aron Kastern grew up fishing and hunting the waters and woods in the northwestern part of the state. Aron received his U.S.C.G. Captains license in 2002 and began his guide service Unlimited Trophy Outfitters. Over the years, Aron has earned a reputation as a hard working and knowledgeable guide with a diverse and intimate knowledge of our waters and the fish in them. Aron's passion to chase anything that bites, extraordinary work ethic, and service to his customers make him a sure bet for a great day on open and hard water. His many years spent on Lake Superior's Chequamegon Bay as well as the surrounding inland lakes and streams provide an enjoyable, educational, and fun experience that will have you coming back for more.
Kevin Schmidt -
After guiding part time in northern Wisconsin for 30 years, Kevin Schmidt was able to retire from his day job in 2016 and focus on guiding full time. Kevin is a U.S.C.G. licensed Captain and he covers our inland lakes from Hayward to Ashland as well as Chequamegon Bay specializing in musky, northern pike, and smallmouth bass. Kevin has been a regular guest on Musky Hunter television as well as a contributing writer for Musky Hunter Magazine. Kevin has a particular interest in fishing education and serves as an instructor for several fishing schools in Wisconsin and Canada. Kevin's easy going demeanor, likeable personality, and extensive fishing knowledge make every day spent on the water with him enjoyable and productive.
Andy Gustafson
715-209-5298
Andy Gustafson -
U.S.C.G. Captain Andy Gustafson grew up on the shores of Lake Superior.  His 40 years of multi species fishing experience will help create your next memories.  From family fun to the hardcore angler, Andy has all the bases covered.  His extensive knowledge of the water and fish in northern Wisconsin along with an easy going personality make him just the kind of guy you want to share a boat with.
Erik Thue -
Erik Thue owns Catch & Capture Guide Service in Hayward, WI.  Originally from Minnesota, Erik spent a few seasons guiding in the Hayward Area until 2011.   After finishing college in Bemidji, MN, Erik moved to Hayward permanently to pursue his passion for fly fishing, fishing and guiding.  Versatility and drive come are on display with Catch & Capture Guide Services. Erik specializes in fly fishing on the Hayward area lakes for Smallmouth Bass and Musky, but will chase these species with conventional tackle as well. Photography is also a huge part in C & C guiding, so every client knows they'll have a great photo of their catch to brag to all their friends.
Derek Cordova -
U.S.C.G. Captain Derek Cordova has been fishing as long as he can remember and has worked in the fishing industry for over 15 years.  He enjoys and appreciates catching all species of fish with walleyes being his favorite.  Every spare minute Derek has is spent dialing in the next bite or fishing a tournament trail.  His home waters of the St. Louis River, Duluth/Superior Harbor, and Lake Superior give him access to amazing walleye, musky, trout, and salmon fishing throughout the open water season, and he's always up for a new adventure.
Kyle Sorensen -
Kyle Sorensen operates Finworks Guide Service out of Hayward, WI.  Raised in Hayward and always having a passion for fishing, he began guiding at the age of 15 on the Spider Lake Chain.  Now he fishes many of the lakes and rivers in the Hayward area specializing in river trips for muskies and smallmouth bass.  You'll also find him on several YouTube videos that have been produced. Regardless of what your after, Kyle will put you on fish and make sure you have a great time on the water.  A freshly cooked shore lunch is also available upon request.
Bill Kutka -
Bill Kutka grew up in Chicago, where he started fishing as a kid and now operates Bill Kutka Angling & Guide Service in Hayward, WI where he has been fishing since the 1980's.  He is a US Coast Guard Master captain and guides on The Hayward Area Lakes, Lake Superior & Lake Erie. Bill is an accomplished tournament angler qualifying for championships and named Sportsman of the Year on the In-Fisherman Professional Walleye Trail. He currently competes as a Pro on the Bass Pro Shops/Cabela's National Walleye Tour, H2H Walleye Series, Masters Walleye Circuit walleye tournament trails and is also a member of the National Professional Anglers Association (NPAA) and The Walleye Federation.