Hayward, WI & Lake Superior Fishing Report 8-24-20
Sorry for the silence. I haven't been able to keep up with my fishing reports as usual this season. We've been on the water just about every day over the last two months. With the exception of a few slow days, the fishing has been really solid. Leaves are already starting to change colors, and fall is just around the corner. Where does the time go?… Here's what's happening in the Hayward Lakes area and on Lake Superior.
HAYWARD AREA LAKES
Thankfully the super hot weather we had back in July finally started to cool down, and water temperatures have settled into the mid to low 70's on most lakes. Cooler nights ahead should should continue to drive that down over the next couple of weeks and trigger the transition into typical fall patterns. We've been focused mostly on walleyes, smallmouth, and crappies over the past few weeks, and typical mid summer patterns have been the rule.
Most of the WALLEYES we're catching on the clear lakes around Hayward are either suspended in open water or relating to deep mud flats in 30′ – 35′ of water. For the suspended fish, we're trolling Bait Rigs Astro Brite crawler harnesses with snap weights. Covering water and tuning in the right depth has been the key to getting bites. Fish have been holding from 15′ – 25′ down on most days, and I'll vary the size of weights until I find the right combination for the day. Any blade with gold in it seems to be the best colors lately, and you've always got a shot at a big fish when using this method. For fish schooling on the mud flats, use your electronics to locate pods of fish just above or laying on bottom. Anchor up or Spot Lock and pitch Bait Rigs Herky Jerkys to them along with a slip bobber/crawler combination. It usually doesn't take long to determine if they're in the mood, and I don't stay on a school for too long if we're not getting bit. Check out this solid upper 20's fish Ann Epperson landed during her trip with husband Larry. We've seen a bunch of that size fish this year, and they're a load to bring in on trolling equipment. Lots of fun!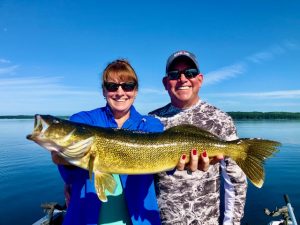 SMALLMOUTH BASS have been consistently in 20′ – 25′ of water around rock structure, and we've had some really good numbers days along with some big fish. If you find them, you're going to catch them on most days although recent bug hatches have made them a bit stubborn lately. Use your electronics to locate fish and park on them using NED Rigs, NEKO Rigs, and drop shotting small plastics. One of my favorite presentations over the last couple of seasons is using a Bait Rigs Odd Ball jig head on a NED Rig. I slowly crawl it through the rocks pausing several times on the retreive. Texas rig the plastic on the hook and add a drop of super glue to secure it to the head. You'll catch lots of fish on one plastic, and it absolutely drives them nuts. Shawn Wortman & the Anderson brothers put some big girls in the net during their respective trips. On both of those trips we barely had to move the boat all day. They just kept coming. That's my kind of day!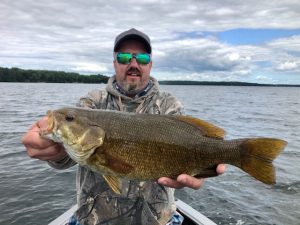 CRAPPIES have started to move out to deep mud flats in search of blood worms on some lakes, and it's just a matter of finding them. Cruise basins in 15′ – 25′ of water until the screen lights up with fish and have at it. On some lakes you'll see them suspended about half way down the water column, and on others you'll see them grouped up along bottom. They'll look like mini footballs on most newer electronics, and are usually unmistakable. Vertically jigging Bait Rigs Panfish Cobra jig heads with a small plastic have been very productive. Pinch a small split shot about a foot above it to get down quickly. You can also use the same set up under a slip bobber. Old friends Brent Granger, Kevin Murphy, Brent Jacobson and Danny Olson visited recently and we put together one heck of a fish fry of 10″ – 11″ fish. Fun bunch of guys and perfect eaters!
Lake Superior – Chequamegon Bay
WALLEYE fishing along the south shore of Lake Superior has produced some big fish for us this year along with good numbers. It's definitely not an every day thing, but when it's on, IT'S ON! Water temperatures have been fluctuating between the mid 60's and low 70's depending on the day and wind direction, and most fish are being caught in 25′ – 35 feet of water right now. We've been trolling a variety of crank baits and stick baits behind planer boards usually trying to run them around 15′ – 20′ down. Bait Rigs Psycho Minnows with a snap weight has been a consistent producer along with other deep diving cranks. Preferred colors seem to vary on the day ranging from hot colors to blues and purples. I'll usually start with a good mix and let the fish tell me what they want. Look for slightly stained water if you can find it or a good mud line after a storm is even better. Try to cover as much water as you can running between 2 – 2.5 mph until you get into a school, and dial them in from there. Dan Martin, Cory McClure, and Steve Berg returned for their annual trip, and we absolutely clobbered them. It was hard to get all of our lines in the water with multiple hookups at a time happening. That's the kind of chaos we like!
I haven't had a chance to get on Chequamegon Bay in awhile, but it will definitely be on the hit list soon. The big smallie bite will just get better as we roll into fall, and I can't weight to get back out there to tangle with them. Word on the street is that it's a run and gun approach right now with fish really spread out between rock structure, current areas, and wood pilings. You can certainly get some big fish if you put your time in with big numbers coming soon when water temps cool and fish begin schooling up.
With our kiddos heading back to school next week, reality is starting to set in. What happened to summer?… I say that every year and still haven't figured out a way to make time stand still. I hope you're all catching a bunch of fish. Bring on the fall bite!