Lake Superior & Hayward Wisconsin Fishing Report 7-5-20
How is it already the 4th of July?… These first two months of the season have definitely been a cloud of dust, and I don't know if I remember seeing our lakes as busy as they've been lately. The Canadian border closure has definitely sent a lot of displaced fisherman to northern Wisconsin, and it's good to see so many people experiencing what we have to offer. Heat has been the story lately, and the extended forecast doesn't call for a cool down anytime soon. Fishing has been mostly good, and we've had a mix of walleye, smallmouth, crappie, and musky trips over the past month. Here's the latest report from up north!
Lake Superior – Chequamegon Bay
With all of the hot weather we've had, I've been trying to get on the big water as much as possible. It's usually a bit cooler, but were still seeing water temperatures in the 70's on Chequamegon Bay and along the South Shore. WALLEYE fishing has been outstanding over the last few weeks trolling crankbaits like the Bait Rigs Psycho Minnow behind planer boards. Bright colors have been best, and I like to move quickly up to 2.5 mph until I'm locked in on a school of fish. You don't usually find them in the same spot every day, and sometimes it takes a bit of searching before you dial it in. Target depths from 15′ – 25′ of water. Chris Zenk along with his boys Trevor and Jordan had a day to remember when they landed 10 fish from 25″ – 30″ with two 30's. That's never happened in my boat before, and it's no doubt a day I'll never forget. If you're willing to take a gamble, the big lake is hard to beat when it's right. What a day!
SMALLMOUTH BASS on Chequamegon Bay have started to vacate shallow spawning areas in search of off shore structure, weedbeds, etc. They can be anywhere and everywhere at this time of year, and I look for weedbeds, rocks, submerged wood, current areas, etc. 10′ – 15′ of water will be the most productive depths on most days over the next month, but don't overlook shallow areas with lots of wood especially in low light conditions. Drop Shotting Plastics, Ned Rigs, Neko Rigs, Spinner Baits, and Bait Rigs Grubmasters are all good choices for presentations. You have to be mobile to keep catching, and plan on lots of run and gun to keep lines tight. Schools of fish tend to be small in mid summer with packs of 3 – 5 fish. Catch one or two out of a school, and look for the next bunch. Vietnam Vets Tom Huckaba and Greg Munich returned for their annual trip to the bay recently and put the hurt on a bunch of big fish. They had several 20″ class fish in the net during a post spawn feeding binge. The net man got a workout, and I was happy to do it for these two Marines. Thanks for your service fellas!
Hayward Area Lakes
HOT, HOT, HOT… That pretty much sums it up. Water temperatures have climbed into the low to mid 80's on some afternoons. The quick increase in temps seems to have triggered an incredible bug hatch on most lakes. That combined with all of the bait from spring spawning hatches has meant lots of full fish, but strangely enough they've been biting most days. Walleyes have transitioned to mid summer patterns with deep weed edges and rock reefs in 15′ – 25′ on clear water lakes holding fish. Target weed edges in 7′ – 9′ on dark water. Slip bobbers with leeches and trolling crawler harnesses with Bait Rigs Astro Brite blades have worked best lately depending on the day. I prefer slip bobbers if there's a good chop on the water and will switch to trolling when things are flat. Fish will be in small schools, and you'll have to bounce around a lot to stay on them. Jim and Megan Robinson along with Kenleigh Berry got into a bunch of good fish with us on their trip. We had the perfect scenario with a good wind blowing into a deep weed edge. The bobbers wouldn't stay up, and lines were tight. Fun stuff!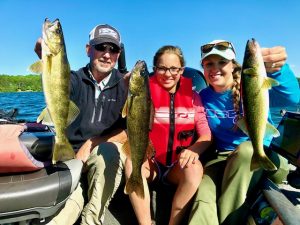 Surprisingly, there's a bunch of SMALLMOUTH BASS still shallow despite the hot water and surplus of food. Were catching a lot of fish right now in less than 10′ around any type of rock structure. Slow sinking plastics, Ned Rigs using Bait Rigs Odd'Ball Jigs, and top waters have all been working well. Some days you have to experiment with colors to figure out the flavor of the day. Blacks, blues, and purples have been best lately. Fish are coughing up everything from mayflies to crayfish to minnows on the way into the net, so you've got lots of options if you're trying to "match the hatch". The move to deeper water will certainly happen soon, but we're going to enjoy catching them shallow as long as we can. I had a fantastic trip the other day with one of my favorite families. Rob Russo and his gang had a big numbers day catching fish after fish. Every spot we hit produced. As Ayden said, "It was a good day of catching." I agree!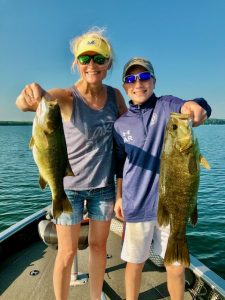 CRAPPIES have started to move out of shallow spawning area to deeper off shore weedlines and even cribs on some lakes. 8′ – 10′ seems to be the sweet spot right now. I like to pull right up the the weed edge, hit spot lock on my MinnKota and start fishing. Our most effective technique has been suspending a small plastic on a Bait Rigs Panfish Cobra Jig under a slip bobber about half way down and letting the wind do the work. It was a treat when my long time customer and friend Joel Kantor said he wanted to catch crappies on his fly rod during his recent trip. He put on a clinic using a Wooly Bugger. Check out these two 14″ whoppers he landed. Pretty cool!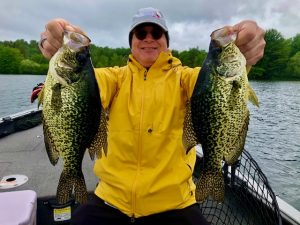 MUSKY fishing gets tricky when the water gets too hot. Fish mortality with these temperatures is an issue, and we won't be running any musky trips until things cool down a bit. However, we did have an opportunity to get a few trips in before things got cooking. Fish were eating and in typical patterns. Working weed edges on mid lake structures with blades like the Bait Rigs Odd'Ball Brute put some sweet fish in the boat recently. David and Nick Russo returned for their annual musky beat down, and brought along Alex Markelz. Alex definietly got some of that Russo karma and stuck a big 45″ fish. Simply put… These guys catch muskies! Rob, Max, and Ayden Russo followed up with their own 40″ fish that Max put the screws to a couple of days later. Both fish rocketed out of the water on the hook set with incredible battles. Our muskies definitely don't like it when the Russo gang is in town! Follow our social media pages on Facebook and Instagram for some cool videos that we'll be posting soon. How big was the one we didn't get David?…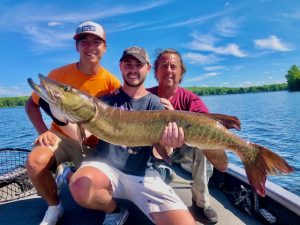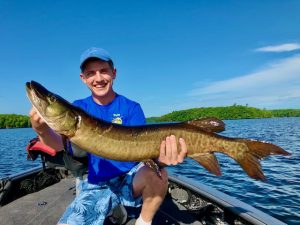 It's been a heck of a ride lately with lots of great people and some awesome fish. We hope you all had a safe and happy Independence Day weekend. Remember that freedom isn't free, and catch a bunch of fish!