Hayward, Wisconsin & Chequamegon Bay Fishing Report 11-3-19
The end of our open water season  always always seems to come hard and fast.  Even thought it's cold and some of our smaller lakes are beginning to skim over with ice, I'm never ready to put the boat away.  There's been a lot of complaining about the weather around here lately, but this October has been a dream compared to 2017 & 2018.  We've had some rain and wind to contend with, but at least it wasn't snowing sideways…  The fishing has been exceptional throughout the season, and we wrapped things up with some big fish and fun people in the boat.  If you've got a good sense of humor and willing to roll with the punches, this can truly be some of the best fishing of the year.  Here's what we caught to end the season and how got them.

HAYWARD AREA LAKES
Walleye fishing around Hayward remained solid while water temperatures held in the low 50's.  Depending on the day, we would locate fish in deep water around 40′ – 50′ on clear lakes or 30′ – 40′ on stained water.  On cloudy/windy days you could also find fish shallower in 15′ – 20′ schooled up on wind blown rocks, points, etc.  Fish seemed to scatter more as the water cooled so big numbers were hard to come by, but you could certainly put a decent amount of solid fish in the net if you stuck with it and kept moving to stay on them.  Slip bobbers & minnows along with Bait Rigs Odd'Ball jigs & minnows were the way to go with slow and steady being the best approach.  Bob Yarrington braved the elements on a cold, windy, rainy day and was rewarded with some really nice eye balls we caught on a wind blown point in 15′ of water.  He earned every one of those fish and ended up putting one heck of a trip together in spite of the conditions.  I think I'm still warming up from that one!
This has been an incredible year for BIG smallmouth bass.  They have definitely been eating well, and it seems like every one you catch has a big belly.  Big schools of fish can sometimes be hard to come by in late fall, but the fish you catch are worth your while.  We concentrated our efforts around wood structure in 15′ – 20′ and caught some absolute whoppers using minnows on Slo'Poke Weedmaster jigs to keep from snagging up.   There's something about wood when the water gets cold that acts like a magnet for big fish.  It's not a huge numbers game, but definitely a big fish kind of thing with plenty in the  20″ – 21″ range.  My best guess is that those are 5 – 6 pounders at this time of year and true trophies.  Roger and Andy Umphries joined me for a few days of chasing whatever swims in our lakes and put some really impressive fish in the net that included several cranker smallies.  This father & son team put a beating on them, and we had a blast battling some fatsos.  These fish aren't looking forward to the Indiana boys returning any time soon!
When you talk about October fishing in this country, the conversation usually turns to big muskies.  This is no doubt the time of year when you have the best opportunity to catch a giant with the biggest fish looking to chow down before ice up.  As the water cools into the 40's live bait becomes the most consistent choice, and dragging a sucker or two while casting big crankbaits and jerk baits to structures adjacent to main lake basins is a solid method for encountering fish.  If you're in lakes that have a cisco/whitefish forage base, you'll want to use silver, white, blue, etc. to match the hatch.  River fish can be a bit different however with faster techniques like pitching buck tails still producing fish late into the fall.  I had the privilege once again to be a part of the Bayfield County Cast & Blast put on by the Wounded Warriors In Action (WWIA).   Heroes Pat Garrett and Jarrett Razon were my guests for a day of slinging for skis, and they were more than up for the challenge.  Pat earned his Purple Heart in 2003 while serving in Iraq and Jarrett earned his in 2012 while serving in Afghanistan.  To say these US Army vets deserved a shot a musky is an understatement.  Well, they ended up putting 4 fish in the net including a thick mid 40's fish landed by Jarrett on a Bait Rigs Viper buck tail.  It was a fantastic day with a couple of awesome dudes.  Thanks for your service and sacrifice fellas, and thanks to all who help put together this great event!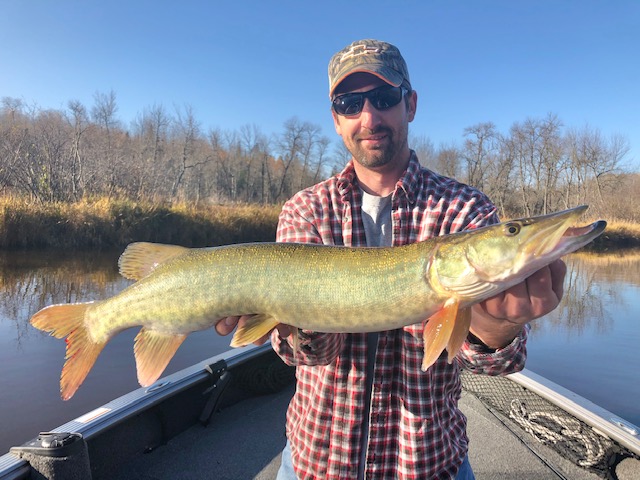 There's no better time for "crappie catchin" than the end of October.  Big slabs are all settled into main lake basins, and a little time spent looking around with your electronics is all you need to do to find plenty of fish and tight lines.  20′ – 30′ seems to be the magic depth on most lakes with some fish moving deeper.  As the water cools, fish tend to hug bottom a little more, and you will just see the tops of their backs on your screen making the bottom look "bumpy".  Keep in mind that fish pulled from deeper than 25′ can have a tough time recovering, so you'll need to exercise good judgement in what you keep and how many you catch.  There's no need to abuse these fish that offer such a great opportunity for action and eating.  The rule in my boat has always been 10 per person regardless of the posted limits.  I can't tell you how many fish we've caught on Panfish Cobra jigs this season, but it's a ton.   When tipped with a small plastic tube or tail, they perfectly represent blood worms along the bottom that fish are gorging on.  Slip bobbers and vertical tight lines both work depending on the mood of the fish, and you'll want to give both presentations a try to get dialed in.  My buddy Shawn Lund and his father Bob joined me for one of the last trips of the season which has become an annual tradition for us.  This time however, we didn't have snow…  Bob didn't seem to miss it, and he put one of the biggest slabs we saw this season in the boat just shy of 14″.  I could get use to this warmer weather thing guys!
CHEQUAMEGON BAY
Chequamegon Bay can become magical at this time of the year with some of the biggest smallmouth of the season showing up along with a mixed bag of who knows what?…  Big pike, brown trout, salmon, splake, etc. are all a possibility, and I love when it all comes together.  Reports from mid – late summer on the bay were pretty sketchy with lots of good fishermen having a tough time nailing down a consistent bite.  An abundance of forage was a possible theory that I think has some merit, and every fish we caught over the last couple of weeks were built like pumpkins.  Rocks and mud flats in 15′ – 25′ are a couple of places to find congregating fish with minnows on live bait rigs, jigging spoons, and swim baits all producing.  If you're using a "Lindy or Carolina" rig, try spicing it up with a Willow Spoon on days when the fish seem to be a bit fussy.  The extra wobble and flash can be just enough to make them commit.  Mike and Danielle Sitton from Luthersville, GA spent part of their honeymoon with us.  The weather man didn't get the memo though, and we dealt with some big wind along with some big fish.  These newlyweds were troopers and ended up putting a big pike and huge brown trout in the net before we had to call it quits.  Now that's how to start a marriage!  I also have to mention two huge smallies that were caught.  Nico Cramer Borneman's 21 1/2″ & Kelsey Gensmer's 21 3/4″ fish were two of the largest bronzebacks in our boat this season.  Absolute MAGNUMS!
Well, I guess that's a wrap…  Huge thanks to everyone who helps us get through the season.  We couldn't do it without you and appreciate partnerships.  If you're in our area or looking for quality products, please check out what the following businesses and companies have to offer.    Hayward Power Sports, Angler's Haven Resort, River Rock Inn & Bait Shop, Northland Lodge, Hayward Bait & Bottle Shop, The Bait Box, Bait Rigs Tackle Company, 13 Fishing, Simms, Lund, Mercury, Humminbird, Minn Kota, Seaguar, Rapala.  Thank you to all of our loyal customers and friends that keep coming back year after year making it possible to do this for a living.  I appreciate all of you more than you know and look forward to seeing everyone again next season for more memories, laughs, and fish.  Last but certainly not least…  Thank you to the women in my life, LeeAnn & Morgan.  Your sacrifices can't be measured, and I love you both.  Now you have to deal with me around the house for 6 months!!!  Ice fishing reports coming soon.  Stay tuned, and we'll keep you posted!