Hayward, Wisconsin, Chequamegon Bay, & St. Louis River Fishing Report 9-25-18
It's really trying to be fall around here.  Geese are flying south, loons have left, and the tree colors are starting to pop.  Extremely warm temperatures continue however, but it looks like big changes are on the way this week.  Might be time to put the shorts away…
Mylo Gustafson (Maple Grove, MN) with his sons Brian (Austin, TX), Corey (St. Paul, MN) have had an annual trip with us for the past several years, and we switched things up a bit.  They usually come in June, but we were able to line up an early fall trip this time around.  It's always good to have them in the boat either way!  The smallmouth bite in the Hayward Lakes area started to fizzle out at the end of last week, and I was hoping it was just a one day situation.  It wasn't…  Light north winds and high skies made for a beautiful morning to be on the water, but it didn't help our situation.  We started off in a big way when Mylo and Corey teamed up to put a FAT 19″ fish in the net that grabbed both of their lines as we pulled live bait rigs with minnows along rock edges in 10′ – 15′.  Both anglers got credit for the catch, and everyone in the boat agreed that we need to find more fish that hungry.  After that, it was time to work for them again.  Fish continue to be really scattered and random.  We caught them in anywhere from 10′ – 25′, and it was impossible to get into bunches.  One here, two there…  After lunch, we switched lakes.  It was a good move, and we were able to get into a little bit more of a consistent bite when I found a bunch of fish stacked on a rock pile in 20′ of water.  There was even some walleyes mixed in, and we ended our day with some tight lines and bent rods.  Exactly how it should be.  We even survived a loon attack!  Those things are a pain this time of year…  Water temperatures continue to stick right around 70 degrees on our inland lakes, but I think we'll see that start to drop over the next week.  I hate to see the warm weather go, but it's time to be fall…  Good guys, good weather, and fish in the net.  Can't beat it!
It's always good to get some new blood in the boat, and a last minute cancellation gave us the opportunity to fish with a new crew on Tuesday.  Josh O'Rourke from Bees N Trees Marina (Sarona, WI) was ready to take a break from working on the water so he could do a little fish catching with his boys.  Wyatt (7 yrs. old) and Grady (4 yrs. old) got a day off from the school grind to join dad, and we got after the crappies in the Hayward Lakes Area.  It doesn't get much better than that when you're a kid!  We've been wearing shorts and t-shirts lately, but that changed in a hurry.  The weather man wasn't exactly correct…  We hit the lake with east winds, cool temperatures, and a crazy amount of steam rising from the lake.  It was an amazing looking scene to start the day.  Our lakes are kind of like hot tubs right now with water temperatures still ranging from 68 – 70 degrees, and it's going to take some time to cool them down.  No worries though.  I had a good gang along for the ride, and we were determined to put a few crappies in the box for a good fish fry.  Locating fish has been the biggest issue lately with the thermocline changing daily and fish responding accordingly.  It was no different for us today, and we had to do a bit of searching before landing on schools of fish in 17′ – 21′ of water.  That was definitely the "Sweet Spot", and we connected on a bunch of fish once we got the depth dialed in.  Slip bobbers and plastics did the job, and the O'Rourke brothers made them pay the price.  The bite wasn't overly aggressive, and any subtle movement in the bobber resulted in a fish.  Once we got tuned in, they were in trouble!  Wyatt and Grady are going to be one tough team to beat, and I'll definitely be bringing more cupcakes next time.  They're all about the cupcakes!  Thanks boys.  That was fun!!!
A nasty weather system with lots of wind and rain kept us off the water for a couple of days, but we were back at it on Saturday.  Jon Schlussler (St. Paul, MN) and his buddy Tim Leach (Staples, MN) were back for their annual trip fishing out of the River Rock Inn.  It's always good to have these guys back, and there wasn't much discussion about what we'd be chasing.  These boys are all about smallmouth bass, and we spent our day in the Hayward area working them over.  It didn't take us long to find fish stacked up on rocks in 20′ – 25′ of water, but they were goofy.  We'd catch one or two out of a school, and they'd scatter. It was hard to get in a groove, and we switched up our approach.  I found a bunch of fish that were stacked on the outside edge of a weedline in 20′ of water the other day, and they were still there in a BIG way.  Jon and Tim tangled with a bunch of fish up to 20′ as we used a pretty stiff South wind to drift live bait rigs with minnows.  Action was steady, and we even had a good double in the net.  The wind kept building though, and it was time to relocate for the PM shift.  Big winds limited what we could do in the afternoon, but we worked it out.  Jon and Tim picked off some more nice fish as we drifted wind blown shorelines on Lake #2.  Every school I'd mark on our electronics would disappear when I'd try to park on them, and it only made sense to just keep covering water.  Fish were spread out, but our average was more than good with a some more 20″ class fish in the net.  We even hooked up on a nice walleye, but Jon was never going to let that fish in the boat.  What did those walleyes ever do to you Jon?…  Water temps are finally starting to cool and ranged from 63 – 65 degrees.  I always look forward to having these guys in the boat, and today didn't disappoint.  Lots of big fish and lots of good laughs.  See you in October Jon!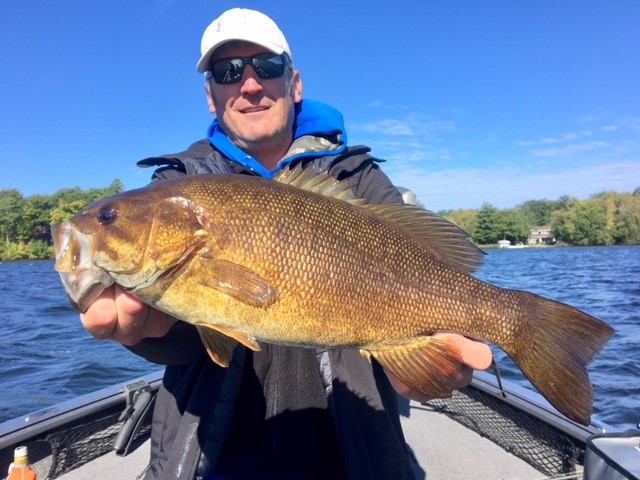 We've been heavy on smallmouth bass lately, and for good reason.  Even on slower days we've been putting some really nice fish in the boat, and the crews we've been fishing with have all been smallmouth nuts..  It's pretty hard to beat a big brown bass pounding on the end of your line!  The trend continued on Sunday.  Nate Gove (Crystal, MN) and his buddy Bill Roth (Eden Prairie, MN) were back for their annual fall trip, and we spent the day around Hayward.  The weather forecast was calling for a pleasant day with temperatures in the high 60's, but that's not exactly how things began.  Cool temperatures and and east wind with thick fog made for an interesting start.  Visibility was minimal, and getting to our first spot took some time.  What did we do before GPS…?  I probed around rocky reefs in 10′ – 20′ looking for schools of fish but struggled to find what we were looking for so we just started drifting wind blown shorelines.  Much like the day before, that was the ticket.  Fish were scattered in various depths from 10′ – 20′ of water, and we started the day right when Nate put a really fat 20 1/2″ fish in the net.  Sorry Bill…  That one's going to be hard to beat!  We set up drifts using live bait rigs with minnows along rock edges and stayed fairly busy throughout the morning catching one here and one there, but our average was more than impressive.  Some really good fish in the 20″ class were landed before we switched lakes for the PM shift.  Lake #2 produced as well, but the bite continued to be a one here and one there scenario.  We found fish on weed edges on 20′ of water, rock reefs in 15′ of water, and along shorelines in 10′ of water.  That doesn't help you put much of a pattern together, but we'll take what we can get.  Keep moving, keep trying different structures, and you'll find fish.  Water temperatures are cooling into the low 60's, and I'm sure these fish will start to stack up again soon.  Nate and Bill are always a blast to have in the boat, and boy do we laugh.  Good fellas and good times.  They had a little contest going, and I think I know who was on the hook for dinner tonight…
We stuck with the smallmouth bite on Monday when Dustin and Tasha Hetke (Elk Mound, WI) showed up.  I've heard that "The couple that fishes together stays together", and I'm a believer!  These two are crazy about smallies, and we introduced them to Chequamegon Bay last year.  I was hoping to get them back on the big water again, but big winds were in  the forecast.  We're having a really tough time getting back out there, but it pays to be patient…  With the Hayward Lakes bite being as good as it's been, we've got some good options.  A stiff south wind was in the forecast, and it arrived as predicted.  The fish have been really spread out over the past few days, but something changed in a good way.   We found big groups of hungry fish in 10′ – 15′ of water and absolutely clobbered them in the morning using live bait rigs with minnows.  Sometimes the wind can lead you to the fish, and today was a perfect example.  Fish were stacked up along wind blown rock edges, and the Hetke's make them pay for it.  We put big numbers of fish in the net up to 21″ before lunch, and it was going to be a hard morning to beat.  Well….  We did our best in the afternoon.  The bite was a bit slower, but you'd be splitting hairs to compare it to the morning.  We continued to drift along wind blown shorelines and put a bunch more in the net including a bonus 25″ walleye landed by Tasha towards the end of the day.  Everything is starting to come together right now, and this is why we love fall fishing so much!  This was the kind of day you always hope for.  Water temperatures held around 63 degrees, and it looks like we've got some drastic weather changes on the way.  Time to get out the long underwear!  Awesome day.  Great job Hetkes!!!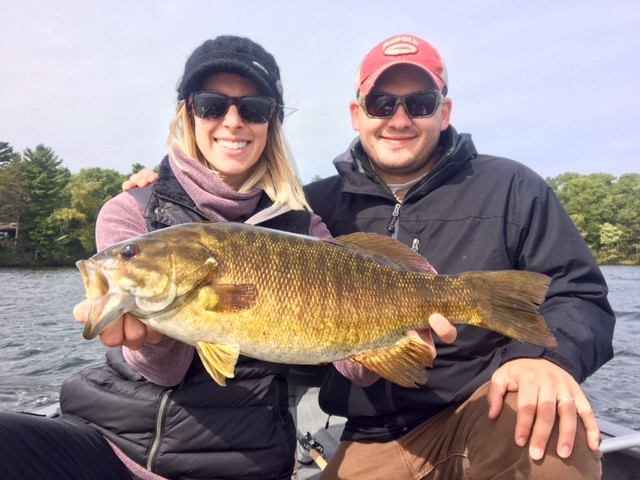 It's musky time!!!  Paul and Devin Bruening from Decorah, IA have had an annual spot on the schedule with us for many years, and we usually target the walleye and smallmouth bite.  Not this time…  Devin put in a request to musky fish.  Against my better judgement I agreed, and these poor guys will never be the same.  Every now and then you get a day when things line up, and Tuesday was the day.  We were in the Hayward Lakes area, and a weather system with cool temps, cloudy skies, and a little bit of rain made for the "perfect" musky day.  Devin started things out when a thick mid 30's fish slammed his buck tail for his first musky in the net.  After that it's really hard to keep track,  and I'll just let the pictures tell the story.  We experienced every aspect of musky fishing from fish on "figure 8's" to suckers, to top waters.  It was one of those days that I wish everyone could experience, but these guys were the perfect gang to have a day like this.  It's hard to argue, but the best fish of the day was probably one that followed Paul's topwater bait to the boat and crushed it after at least 5 turns on the figure 8.  It was a crazy scene,  but Paul did everything right to put it in the net.  Fish were holding off weed edges in 10′ of water, and they were definitely hungry with water temperatures falling into the low 60′. The Bruenings final tally was 5 fish in the net with one lost. That's going to be a hard day to beat, and Devin might be ruined… Sorry brother!!!  Always a good time with these guys!
Crappies, smallies, walleyes, muskies…  What more do you need?  It's time to fish before Old Man Winter comes calling.  Get on the water and have a great week!!!