Hayward, Wisconsin, Chequamegon Bay, & St. Louis River Fishing Report 7-12-18
And just like that, its the 4th of July…  We're burning through this fishing season.  Literally burning!  Our temps continue to be in the mid to high 80's almost daily with even a few hitting the mid 90's.  I have a feeling warm water temps will be a big part of our story over the next several weeks with definite adjustments in how we'll be fishing.
I had some time to spend with family over the 4th of July and got a chance to take my cousins from Indianapolis, IN out on the water.  Matt Evans and I spent a bunch of time together as kids during the summer months, and it's always great to reconnect with him whenever we get a chance.  He brought along his son Joey and friend Jackson Neibert for a St. Louis River adventure.  I hadn't had a chance to check out the bite up there yet, and this crew had never fished on Lake Superior.  Perfect!  Joey and Jackson are a couple of fishing nuts, and I was excited to show them what can happen on the big lake.  We arrived at the landing to hot conditions and a stiff NW wind that made things a bit challenging as we pulled crankbaits over 5′ – 8′ flats.  Water temps were 69 – 71 degrees, and the harbor was surprisingly clear despite the flooding and rain a few weeks ago.  Unfortunately the bite was extremely slow for us.  We were only able to land a couple of eater sized walleyes in a few hours of fishing, but Joey did tangle with a very big fish that came unbuttoned half way back to the boat.  It was definitely a tank, and he did everything right during the battle.  Sometimes they just get away…  The boys did and excellent job learning the ins and outs of trolling with planer boards, and our teamwork was excellent.  Glad they were able to get a little taste of what can happen, and those walleyes better be worried the next time these boys are in town.  I have a feeling revenge will be on their minds.  Just think how big that fish will be next time Joey!
One of my favorite father & son combos arrived on Saturday for our annual trip.  Dave Rollins (Hudson, MN) was back with his Big 10 sons.  Ben (St. Paul, MN) graduated from the University of Wisconsin and Josh (Arlington Heights, IL) graduated from Iowa.  You can imagine the jabbing that goes on during this trip…  We spend our day in the Hayward area, and it was hot again with big south winds.  We targeted walleyes and smallmouth in the morning, but the sledding was tough.  I located fish on deep rocks in 20′ – 25′ of water, but it was impossible to stay on top of them.  I also tried some wind blown weed edges in 12′ – 15′ of water, but we still couldn't stay stuck.  Despite the conditions, the Rollins boys were still able to land a few smallies up to 20″ and walleyes up to 19″ on slip bobbers with leeches and minnows.  In fact, I'd say we did well with what we had to work with…  I can tell you this for sure, Josh is always happy for Ben when he puts a fish in the net.  What a nice brother!  Time for a change of plans.  We switched lakes in the afternoon to try and get on a better bite and targeted crappies to wrap up the day.  It didn't take us long to find a hungry school of fish over a 10′ weed bed, and the lines were tight.  Dave was on fire right from the start, and it didn't take long for Josh and Ben to join the party.  The Rollins men landed a pile of slabs up to 12″ using plastics and slip bobbers and were able to take a few home for a good fry.  It's really hard to beat that kind of action any time you're on the water.  As usual we had lots of laughs, and the positive vibes for a big Wisconsin football season was unanimous.  Well, almost…  We'll get you on the right side one of these days Josh!  Heck of a fun day with some really awesome guys, and I hated to see it come to an end.  Until next time fellas!

Mark and Machelle Homp (Chippewa Falls, WI)  returned to fish with us on Monday in the Hayward area, and Plan A was to target smallmouth bass.  Catching smallies hasn't been much of a problem over the past couple of weeks with the post spawn feeding binge in full effect, but they may finally be full…  The bite was extremely slow for us as we worked over a combination of off shore structure including rock reefs and deep weed edges.  The fish were there, but they weren't doing it.  We were only able to put one smallie and one pike in the net before the decision was made to change things up.  Those fish were in a bad mood, and we weren't going to let it mess up our day.  A good crappie bite cures a lot of ills, and we switched lakes in the afternoon to see what we could find.  It was just what the doctor ordered.  We continue to find fish over 10′ weedbeds using plastics with slip bobbers, and it didn't take us long to get the rods bending.  Machelle was absolutely on fire putting the two guys in the boat to shame, but Mark and I will conveniently remember things differently…  Us fellas have to stick together!  Things got a bit interesting when we had a huge pike grab one of our crappies on the way in, and I got a good look at it before she let go.  That was a major fish…  The one that got away!  Exciting stuff, and it was a fun afternoon of fish catching with a really enjoyable couple to share it with.  Water temperatures climbed into the low 80's by the end of the day, and I can't remember the last time we had a stretch of seriously hot weather like this.  It's definitely making things interesting, but I know better than to complain.  Thanks for another fun trip Mark and Machelle.  I'll give you the lucky rod next time Mark!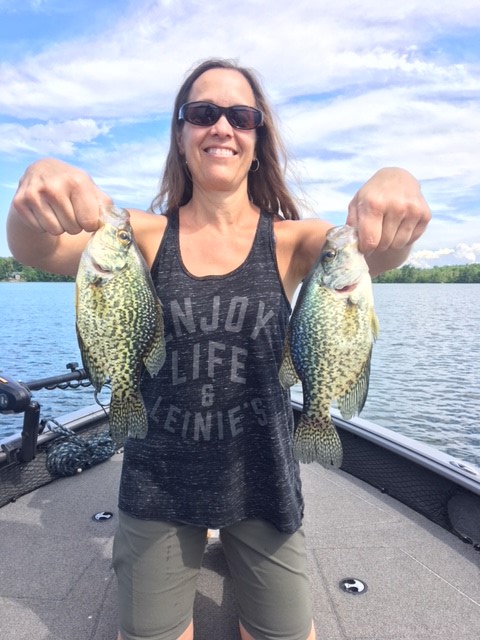 More heat on the way, and more water ski weather was in the forecast for Tuesday with hot temps and flat water continuing.  I had a another great crew returning, and we were going to make the best of it.  John Jatzow along with his boys Andy and Greg from Iron River, WI were back in the boat and we switched things up a bit.  The routine over the last week has been to target walleyes and smallies in the morning with crappie fishing to finish the day.  With water temperatures still climbing and less than ideal conditions predicted, we started the day targeting crappies.  The Jatzow men were after a meal for a fry, and we didn't waste any time getting after it.  We were in the Hayward area again and got into a really good mix of fish along an 8′ weedline using plastics with slip bobbers.  The Jatzows wore out a bunch of awesome slabs up to 13″ and caught way more than we needed by lunch time.  An overcast sky kept the heat from getting too serious, and action was consistent throughout the morning.  With our mission accomplished it was time to switch lakes in the afternoon to see if we could stumble into a walleye bite.  On cue, the clouds left and we had high skies with flat water.  Of course!  It wasn't exactly what you draw up for walleye conditions, but we made the best of it finding some fish in a 7′ weedbed using jigs with minnows and leeches.  Andy landed a really nice 22″ fish to wrap up our day, and he even pocketed a little cash on the deal.  John threw out a biggest fish wager, and he was good for it.  You've spent money on worse things my friend!  Water temperatures were in the low 80's by quitting time.  Plain and simple, we're sizzling right now…  Thanks for another fantastic day fellas.  Lots of laughs and stories.  Good stuff!  Remember to call me when you need that cow bell player in your band Greg.  It's going to be HUGE!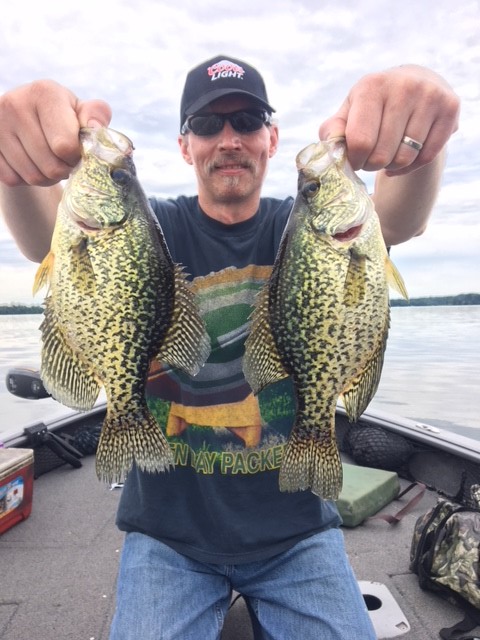 I'm sure it's happened before, but I cannot remember a time when we had so many crazy circumstances during our fishing season.  Chequamegon Bay is still a muddy mess, the St. Louis River hasn't recovered from the storms, and the Hayward area lakes are all cooking with water temps in the 80's…  My head has been spinning every day with what our options will be, and we stumbled into a neat pattern on Wednesday…  Desi and Shane Sipsas (Iron River, WI) were back for their annual trip, and we began our day targeting walleyes in the Hayward area.  With more heat and light winds in the forecast, I wasn't overly confident that we'd be able to put much of a day together.  Overcast skies saved us, and a light south wind was just enough to keep things comfortable.  I started looking at deeper structure like rock piles and reefs in 20 plus feet of water, but there was a very noticeable thermocline setting up all over the lake in 10′ – 15′.  There won't be anything below that thermocline, so they had to be shallow.  Back to weedlines we went, and that's where we found the fish we were looking for.  Desi and Shane banged on a bunch of nice walleyes up to 19″ using slip bobbers with leeches and jigs with minnows and leeches throughout the morning.  We parked on the outside edge of weeds in 8′ of water and had consistent action with a few bonus smallies, pike, and gills added for good measure.  It was way more action than I was anticipating, but there was no complaints.  With water temps as high as they are, you'd assume that everything would be deep right now.  Never assume!  Heck of a lesson learned, and it was fun watching these guys go to work.  After lunch, we decided to do a little exploring.  I wanted to investigate a good crappie bite that I was on a couple of years ago, and we switched lakes.  The result wasn't exactly what I was hoping for, but you can always learn something in these situations.  We were able to tag a few slabs up to 12″ along 6′ weedlines on plastics, but the same shallow thermocline was setting up in this lake as well.  Our Humminbird was showing some fish suspended just above it around 7′ of water, and I'd suspect that there's a transition into late summer patterns beginning.  That thermocline should push deeper over the next couple of weeks with fish following it, but nothing will surprise me at this point.  Shane put on a clinic landing some nice gills before quitting time, and we all agreed that it had been one heck of a good day.  We learned a bunch, caught a bunch, and laughed a bunch.  Can't beat that!
It looks like we've got a few more days of hot weather in the forecast before our weather turns back to more "normal" conditions next week.  Maybe this is the NEW NORMAL…?  Stay cool everyone, and have a fantastic weekend!