Hayward, WI, Chequamegon Bay, & St. Louis River Fishing Report 6-25-18
Flooding and road closures have been the news around here lately due to all of the rain we had last weekend.  It's definitely a mess in many places with lots of closed roads, and lakes we can't get to.  We'll be using all of our options over the next few weeks.  We can't let that stop us though.  We'll just keep rolling with it…
I had a new crew out of Northland Lodge with me on Tuesday.  Erik Long and his son Alex from Naperville, IL were in the boat, and we spent our morning targeting walleyes.  We found fish, but it was a different kind of bite.  Weed beds are starting to fill in, and it took some hopping around to dial in the right pattern.  We focused on cabbage in 4′ – 6′ and the Long men caught plenty of eyeballs up to 22″ on jigs and minnows with a couple of doubles and a few pike in the mix as well.  Areas where the weeds were thick and at the surface were not as productive as spots with submerged weeds.  We're definitely transitioning quickly into a summer pattern, but I'm hoping things will slow down a bit over the next week.   Water temperatures ranged from 68 – 75 throughout the day.  After a good morning, we decided to switch our attention to crappies in the afternoon.  It didn't take us long to figure things out, and we found schools of slabs up to 11″ in 5′ of water and weeds.  Jigs and plastics under slip bobbers were all we needed, and our afternoon was spent catching fish after fish.  The weather was perfect with temperatures in the mid 70's and a light wind.  We all agreed that everyone should get to have a day like this on the water!  Erik and Alex were awesome, and I have a feeling we'll see them again.  Excellent work today fellas.  I had a blast!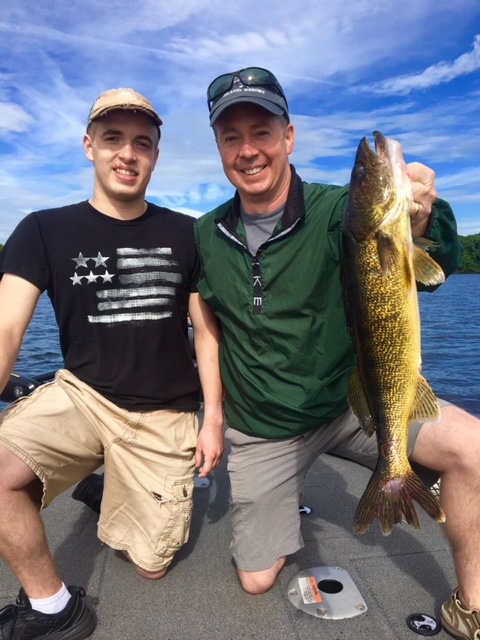 Greg Lewis from Mason City, IA has been bringing a great crew of guys to fish with us every fall for the past several years.  He decided to add a spring trip to this year's program, and I'm sure glad he did.  Jesse Burkle (Epworth, IA) and Jamie Sullivan (Johnston, IA) were first up on Wednesday.  Most lakes north of the Hayward area a complete disaster right now due to the rain, so we decided to stay close to home and take what we could get.  Not a hard decision.  Walleyes were on the morning agenda, and we were able to get on a good school of fish up to 19″ along weed edges in 6′ of water.  Jigs and minnows were the ticket, and my crew did an excellent job of capitalizing on opportunities that included a fat 35″ pike landed by Jamie on light line.  That was one heck of a battle!  We had perfect walleye conditions with overcast skies and water temps around 74 degrees.  Jamie and Jessie put a bunch of solid fish net before the sun decided to make an appearance around late morning and shut things down.  High skies with no wind tend to make for an extremely tough bite.  By noon we had done all of the damage needed, and it was time to change up the program.  We switched lakes and went on a smallmouth mission.  Good move!  Jesse and Jamie ended our day putting a bunch of aggressive post spawn smallies up to 19″ in the net using top waters and plastics.  Great to see that top water bite coming into place…  Nothing better!  We worked over shallow rock flats in 5′ – 8′ of water and caught fish on top and bottom.  The post spawn binge is here, and it's one of my favorite times of year!  Water temps ranged from 70 – 74 degrees throughout the day, and we're finally having some stable weather.  I think the fish are on the same page.  That's a good thing!  Thanks for a great day Jamie and Jessie, and I have no idea how many fish were lost today?  What happens in the boat stays in the boat…  Wish every day could be like that!  Fun stuff with fun guys!!!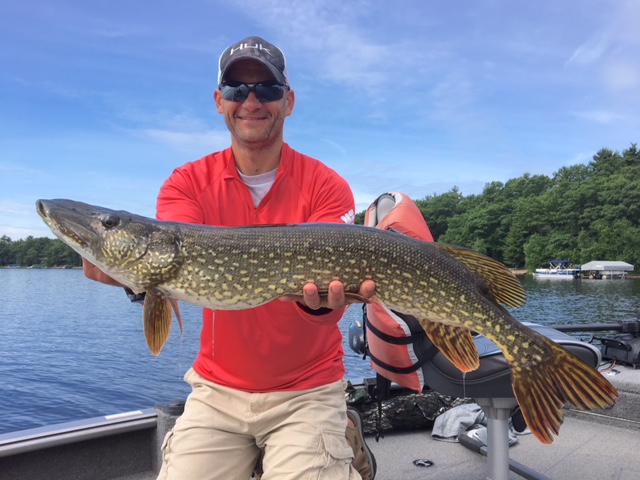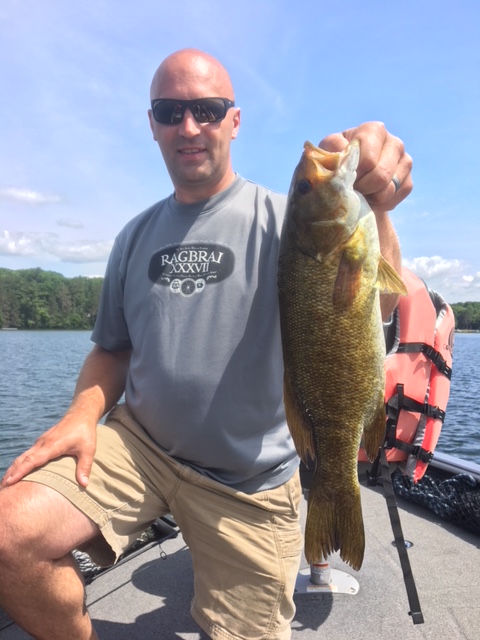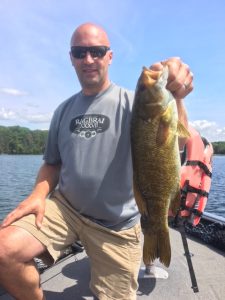 Shift #2 from the Greg Lewis gang was back in the boat with us on Thursday in the Hayward area, and we put all of our attention on smallmouth bass for the official first day of summer.  From what I'd seen the day before the post spawn binge was in full effect, and we needed to take advantage of it.  Jason Schmitz and Caden Jansen (Dubuque, IA) joined me for the the best numbers trip we've had so far this season.  It was really the perfect day in many respects.  Temps were in the mid to high 70's, and we had a light east wind.  The east wind is sometimes a killer, but not today.  Nobody was complaining…  We found a ton of hungry post spawn smallies on rock/gravel flats and points in 2′ – 5′ of water using a variety of presentations.  Topwaters and a bunch of different plastics all caught fish up to 21″.  It's that time of year when you really can't do much wrong when you find the right lake on the right day.  Locate rocks/gravel and start catching!  Water temperatures held true at 71 degrees throughout the day, and it might finally be summer around here.  At least that's what the calendar tells us…  Jason and Caden were on point and continued to hammer brown bass until quitting time.  We talked about trying some walleye fishing, but who would leave this kind of bite…?  Not a chance!  My gang put a pile of fish in the net, and those kind of numbers will be tough to beat.  We're sure going to try though!  Excellent work fellas, and thanks for a fantastic day.  That was darn near perfect!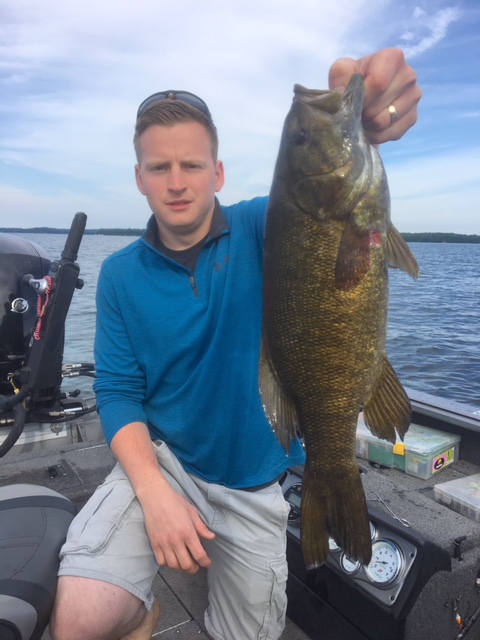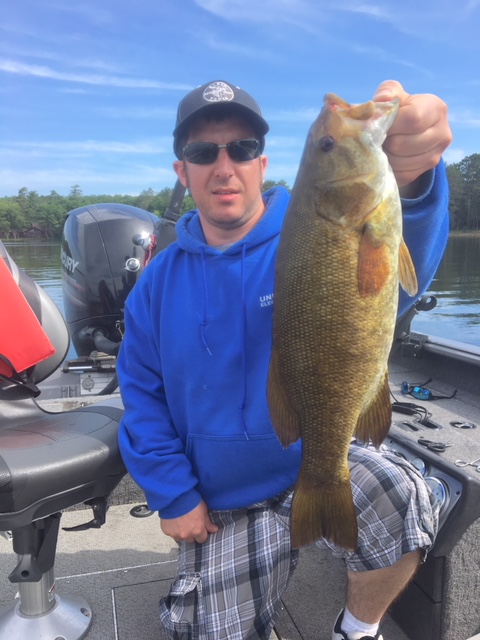 Joel Kantor from Tulsa, OK has been coming to fish with us for the past several years, and he's always trying to nail down a good top water fly fishing bite for smallmouth.  I don't blame him!  Nasty weather messed up our trip last year, but he might have nailed it this time.  Joel and his crew arrived on Friday to fish the  Hayward area.  His father PK, brother Kent, and nephew David were along for the ride, and Josh Teigen helped out to handle the load.  Can't get a better crew than that!  We were extremely confident after the bite we had yesterday, but the fish had other ideas in the morning…  Joel and PK were in my boat, and Josh had Kent and David.  As crazy as the action was the day before, it had slowed dramatically for the morning bite.  Fish were on the spots they were supposed to be, but there was a lot of lookers and only a few takers.  We worked 2′ – 5- rock and gravel flats in the morning, and PK stole the show landing all of our big fish up to 20″ on slow sinking plastics.  At 90 years young, you can only say one thing, "He's the man!"  Joel diligently stuck with his fly rod, and I threw a bunch of stuff at them as well.  PK got it done, and I'm not surprised.  That's my partner!  After lunch, the tables turned.  Some clouds moved in, and Joel was able to crack to code to some topwater smallies with the fly.  I never get tired of watching a fly guy do his thing…  We found a pile of fish on a shallow rock reef in 2′ – 5′ of water, and they were willing.  Joel put on a clinic with the fly rod, and PK kept pace as well.  Everything came together perfectly, and it couldn't have happened to a better bunch of guys.  Warm temperatures, sunny skies, and smallies in the net.  Perfect!  Water temperatures stayed in the low 70's, and the post spawn binge continues.  Always great to have this crew in the boat.  Awesome day, and one more on the way!
Josh and I were back in Hayward on Saturday for Day #2 with the Kantors, and we began by switching lakes and switching crews.  PK wasn't leaving my boat though…  I wouldn't allow it!  Kent joined PK and I, and we started as hot as you could.  Kent was throwing top water plugs with PK using slow sinking plastics.  It was all working at the same time, and we had a good kind of chaos going on.  Everyone was hooked up.  Love that kind of busy!!!  We had multiple doubles and landed a bunch of big smallmouth up to 20″ on a rock reef in 2′ – 5′ of water before we even know what happened.  Now that's the way to start a day!  Inevitably, it had to end though.  Around mid morning the bite got inconsistent, and it became a one here, one there kind of game.  With high skies and flat water once again, I wasn't completely surprised.  At some point, they've got to take a break…  It was time to switch lakes for the PM shift after stopping in to see our friends at Angler's Haven for lunch.  David was ready to spend some time with his grandfather in the boat, and we a had memorable afternoon connecting on a bunch of smallies up to 19″ in shallow rocks using plastics and top waters.  The fish were willing, and I had the right gang to get it done.  David and PK slammed a pile of big fish, and we had a bunch of laughs along the way.  Water temps were in the high 70's by quitting time.  Sorry for punching you in the nose twice PK!  Are we still negotiating a settlement?…  All good things come to an end, but I really hate to see this crew leave.  Glad they hit the weather and the bite right.  They sure deserved it!  See you next year PK.  I'm counting on it partner!!!
As I post this report Chequamegon Bay is still pretty much unfishable with all of the muddy water that poured into it, and the St. Louis River isn't a whole lot better.  Hopefully the stable and dry weather we had this week with speed up the process to those bodies of water getting back on track.  Have a great week everyone.  We'll keep you posted!