Hayward, Wisconsin & Chequamegon Bay Fishing Report 5-24-17
May showers bring June flowers. That's how it goes for us in northern Wisconsin! We've been in a cold and wet weather pattern over the past week. Lots of rain and lots of northeast winds have made things a bit challenging, but even the fish figured out that they have to eat sometime! Terry Peterson and I spent the weekend fishing with our favorite crew from Door County, WI. Scott Mueller and Charlie Schell from Cedarburg, WI along with Matt Tishler and Leif Mickelson from Sister Bay, WI were back in the Hayward Lakes Area for their annual trip, and they arrived just in time for another blast of cold and rainy weather. Day #1 was spent chasing crappies with Matt and Leif in my boat, and we were lucky to squeak in a dry morning. Big pre spawn crappies were hanging around weeds in 9' of water, and we caught a bunch of really nice fish up to 13" on plastics with slip bobbers. I was a bit surprised that they bit as well as they did, but I wasn't complaining. We switched lakes after lunch, and the rain set in. Fish were still biting however, and it was the same pattern. Weeds in 8' – 10' were holding a lot of pre spawn fish. Presentation of our plastics was important, and we had to keep them high to get bites. Water temps on both lakes we fished were in the mid 50's. Even bad weather conditions can't spoil a trip with this crew! Great times with great guys, and the only thing missing was our buddy Mike Daubner. Mike couldn't make it because he was tending to the grand opening of his restaurant
Boat House On The Bay
. If you haven't been there, you need to. Awesome place, awesome food, and awesome people. We'll always have a spot in the boat for you Mike!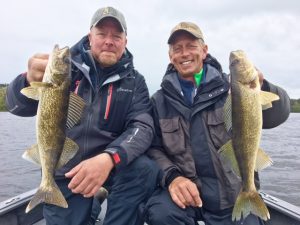 Day #2 with the Door county crew started out on a mission for walleyes in the Hayward Lakes area with more clouds, rain, and cool temps. Water temperatures had dropped to the low 50's overnight, and the bite was a bit weird. We used jigs and minnows in 6' – 8' of water and had lots of short hits and drops throughout the morning. It was a bit of a struggle, but Leif and Matt were able to scratch out a hard earned limit of eyes up to 17". We bounced around a lot and tried not to stay in one place too long if the bites slowed. The boys hung with the program and got the job done. We switched gears in the afternoon, and went looking for smallmouth. Apparently they were on the same page as the walleyes… We threw stick baits around spawning flats in 2' – 10' of water and caught fish up to 18", but the bite was tough. Fish were really spread out, and we had to cover a lot of ground to catch what we did. I think they're starting to feel the same way about this weather pattern as I am! No worries. My crew hung with it and put a respectable afternoon together. We've had lots of good times and lots of laughs with these guys over the years, and I always hate to see the trip end. Matt even caught me with a tear in my eye when we were heading to the landing at the end of the day… That was from the wind Tish! See you in July fellas. Can't wait!!!
Last year, John Smith from Schaumburg, IL requested a musky and a big walleye when he got in my boat. Well, it happened and was one of the most memorable trips I've ever had. John was back at
Northland Lodge
on Monday, but our expectations were realistic. Last year would be tough to beat, but we were sure going to give it a shot. John and his brother Don from Elk Grove Village, IL had the a.m.. shift. We were after walleyes and had a slow start with our first two stops not producing. After some adjustments, we found fish on rocks in 25' of water. The bite was slow, but the brothers were able to land several up to 17" on jigs and minnows. Right before lunch we moved shallow and a caught a few more in 5' – 6' weeds. Apparently they were all over the place! Water temps had dropped to 54 degrees, and the men accounted well for themselves under tough conditions with cloudy skies and cool temps continuing. In the afternoon, it was time for the ladies to have at it. We opted for a change of scenery and switched lakes. It didn't take John's wife Nancy and her cousin Pat Godfrey ( Belmont, NC) long to get it going. We got into a hot bite in shallow weeds right away, and the girls put on a clinic landing a bunch of nice walleyes up to 19" on jigs and minnows. The action was fast, and the girls took care of business. Nancy and Pat figured things out quickly, and I'll have to let you decide which crew had the best catch of the day. I'm not getting in the middle of that one! Thanks for another memorable day to this great gang. We may not top last year John, but lets keep trying!!!
Jim Pones from Brownsville, TX and his son Jim Jr. from Villa Park, IL were back for a two day trip and we spent Tuesday in the Hayward Lakes area fishing walleyes. More rain, more clouds, and NE winds didn't give me a real positive vibe that it was going to be a productive day. I couldn't have been more wrong! We found a pile of of 12" – 14" fish in 25' on jigs and minnows that were biting as fast as we could get our lines in the water. Jim Sr. even had a musky munch on one of his walleyes on the way in, but it let go before things got serious. After lunch, we decided to move shallow in search of some bigger fish, and things got interesting. We ended up finding some good eyes in 5' – 6' weeds that included a 25" walleye and 30" pike landed by Jim Jr. along with 3 more musky hook ups that were lost. That's 4 muskies hooked in the day! We would've liked to get any of those fish in the net, but light tackle and weeds were working against us. It was an action packed afternoon, and the Pones men put one heck of a day together when it was all said and done. Water temps were in the low 50's. I guess these fish need to eat no matter what the conditions are. I'll take it… What a day!
I had the thought yesterday that we've been fortunate to catch what we have over the past week considering the weather. Shouldn't have had that thought… Northeast winds, cool temperatures, and cloudy skies persisted on Wednesday, and the fish decided enough was enough. The Pones men were back in the boat, but the fish weren't anything close to cooperative. We stayed in the Hayward Lakes area, and the walleyes completely shut down for us. After Jim Sr. tangled with another musky that grabbed a jig and minnow on the first cast of the day, it was tough sledding. We only managed to catch one 15" walleye in shallow weeds after trying several spots both deep and shallow. It wasn't happening… We opted for a change of scenery in the afternoon, and went looking for some crappies. It was a better bite, but not much… The struggle was real as we would catch one here and one there while moving frequently with no pattern setting up. A well earned and deserved limit of fish up to 11" were caught in 2' – 6' of water on slip bobbers and plastics. Believe me, we were happy to catch every one of them! Even though the bite was tough, I hated to see our trip end. These are two great guys that I look forward to fishing with evey year. See you next year boys!
Big thanks to our good friend Jordan Gensmer from Angler's Haven Resort for bailing us out today. We had some technical issues at the boat landing, and he saved he day. It's good to have good friends. I owe you one buddy!!!