Hayward, Wisconsin & Chequamegon Bay Fishing Report 1-6-17
2017 has started cold.  I mean COLD!  Sub zero temperatures with nasty wind chills have moved into northern Wisconsin, and we're definitely making ice.  When this cold snap approached I assumed we'd be in for a tough bite, but Mother Nature doesn't always follow the script.  Those that are brave enough to battle the elements are still catching fish, and they deserve every one.  You're certainly not going to catch them unless you get out there, and it's been a good week to test out those heaters, shelters, and shacks.  That's why you've got them…  Right?
Josh Teigen reported that it was so cold that it was hard to get good pictures, but it didn't slow his customers down from having some big days on our inland lakes.  The panfish bite has continued to stay strong during the day with some big bull gills up to 11″ caught in 12′ – 18′ over the top of green weeds using small spoons tipped with plastics.  Those are some nice bluegills!  The crappie bite has been outstanding as well producing limits of nice fish up to 13″ over basins in 25′ – 35′ of water and in 7′ – 10′ weeds.  Those same small spoons and plastics that are producing gills have also been effective on the slabs.  Pike and bass have been active with lots of fish caught on tip ups and shiners along weed lines in 10′ – 20′ of water, and there continues to be a good evening walleye bite with fish up to 20″.  Tip-ups and shiners set up along break lines and weed edges in 15′ – 20′ of water continues to be the most consistent producer.  Josh reports good ice conditions with 10″ of ice on most lakes.  Even those fish look cold Josh…  Thanks for the report and stay warm out there!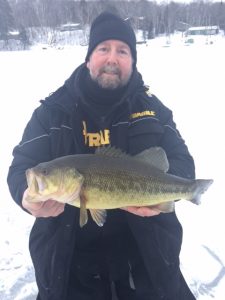 Aron Kastern hasn't let the cold weather slow him down either, and he's spent time both inland and on Chequamegon Bay.  He reports a strong panfish bite as well with lots of good crappies and gills being caught in 15′ – 25′ basin areas.  White and red glow jigs tipped with spikes and waxies have been producing the best for his crew.  Keep experimenting with colors and bait combinations until you dial it in.  Aron also says ice conditions are excellent with 10 plus inches of ice and smooth travel with snowmobiles.
The Chequamegon Bay report is a bit less consistent.  Aron reports good ice conditions on the Ashland side with 12″ of ice and an inch of snow cover.  It's been a mixed bag bite with perch and pike being caught in the 10′ – 12′ weed flats and whitefish caught off deeper channel edges.  Aron recommends using flashy spoons tipped with waxies or minnows and always having a few tip ups set with minnows to get those roaming pike.  The Washburn side of the bay is a different story however…  Aron reported ice from Bono Creek to Long Island, but the depth was variable and inconsistent with some areas only having 2″.  He recommends staying away from that area for at least another week to let these cold temps firm things up. With one more week of cold weather, we should be good to go on that side of the bay.  Stay tuned, and we'll keep you posted.  Good stuff Aron, and thanks for keeping us up to speed on the bay.  Looking forward to seeing the results when you can really get after it out there.  Have a great weekend everyone.  Bundle up, stay warm, and catch some fish!