Chequamegon Bay & Hayward, WI Ice Fishing Report 1-18-16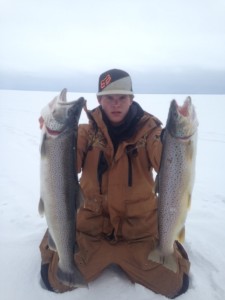 We finally have a real, live, and legit Chequamegon Bay ice report for you.  FINALLY!  It seems like the fish were just as anxious as the ice fishermen as some real crankers hit the ice over the weekend.  As you can see, there was no lack of big fish with some nice browns and whitefish on the feed.  Aron Kastern reported 5″ – 5 1/2″ of good ice along the Washburn side of the bay south of Washburn.  He also said there's 2″ – 4″ north of Washburn to Houghton PT.  Buckshots and pimples tipped with waxies and shiners produced some really good action in 15′ – 30′ of water.  Of course the bite was better before this nasty cold front set in, but the fish continued to bite regardless.  It's good to finally see the bay get going, and I'm looking forward to seeing what the guys are able to produce over the next few weeks.  It's a big fish place, and anything can happen any time.  Nice work Aron.  It's good to see those trout back on the report!!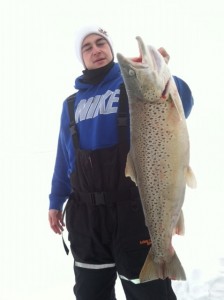 Josh Teigen continued to work inland over the weekend and is still on some really good fishing.  Why would you leave it???  Rick and his son Tyler joined him for a perfect day to be on the ice with light winds and reasonable temps before the arctic blast hit us.  Hey, at least I didn't say polar vortex…  They caught panfish and pike throughout the day in 6′ – 20′ of water with some good gills up to 9″.  Small Kastmaster spoons tipped with waxies were the ticket.  The pike ran up to 32″ with a few bass up to 16″ in the mix as well.  In the afternoon it was walleye time, and they put a bunch of fish up to 21″ on the ice with tip ups and shiners in 12′ – 27′ of water.  Not a bad day at all fellas.  That's a ton of fish!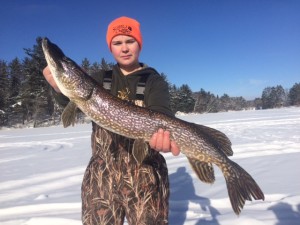 Day #2 of the weekend was spent with Matt and his three sons Mauston, Mavrik, and Marik.  The cold front had set in, and they started the day with balmy -18 degree temps.  Ouch!  Predictably the bite was a bit tougher but the crew still caught plenty of fish including 11 pike up to 35″ and a pile of gills up to 8″.  Josh said Mauston had the hot hand landing 3 pike over 30″.  Atta boy Mauston!  All pike were caught on tip ups, and the gills were again caught on small spoons tipped with waxies.  The walleye bite in the evening was a tough sell.  The boys went 1 for 7 on tip ups with Mauston landing the lone 22″ fish.  Depths stayed the same as the day before with pike and panfish holding in 6′ – 20′ and walleyes in 12′ – 27′.  If that's as tough as a tough day gets, I'll take it.  Way to go guys!  Ice conditions on inland lakes are still a bit sketchy with a lot of slush pockets and not much ice underneath.  Josh is still finding areas with under 3″ of ice so you need to stay vigilant out there.  I expect to see a bunch of Packer fans hitting the ice now.  Man, that was a tough one…  Stay safe out there everyone, and stay warm!!!