Hayward, Wisconsin & Chequamegon Bay Fishing Report 9-11-15
And here comes fall…  This week has been a treat.  I took a couple of days off and spent some time on the water with my good buddy Terry Peterson, and we started out on Tuesday by returning a favor.  Wisconsin DNR Fisheries Biologist Max Wolter was kind enough to take Terry and I out this past spring to help check nets as they did their annual population surveys on the Hayward, WI area lakes.  It was about time he got to see the fruits of his labor!  We spent the morning focusing on walleyes and found some fish up to 23″ in 30′ – 35′ of water on jigs and minnows.  It wasn't a fast bite by any means, but we were able to locate some willing fish.  In the afternoon we turned our attention to smallmouth and found plenty of nice fish up to 18″ on rocks in 14′ – 18′ of water using minnows and drop shotting plastics.  Water temperatures held around 72 degrees on a warm day with bright skies.  With Terry (The Professor) and a local fisheries biologist in the boat those fish had no idea what hit them…  They didn't stand a chance!!!  Thanks for all of your hard work on our lakes Max.  You're doing a fantastic job, and your efforts are
appreciated by all of us who use and depend on these lakes.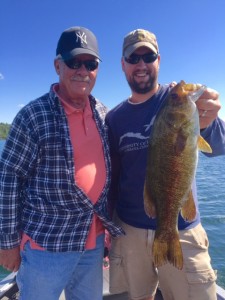 Terry and I were back in the boat on Thursday with Terry's long time customer and friend Orville Landry from Hinsdale, IL.  Orville has been fishing with Terry for over 20 years and it was a really neat opportunity to fish with another guide and one of his long time customers.  We chased crappies all day and found them scattered in small schools over 21′ – 25′ of water.  They weren't bunched up like they've been in previous days, and I suspect the cold front with north winds we had coming in had something to do with it.  We'd catch a few fish up to 12″ out of every school on plastics but had to move frequently to stay on biters.  I also noticed that some fish were relating to the thermocline, and others were relating to deep basins.  It was a good example on how to stay on top of fish at this time of year, and I couldn't have had two more capable guys in my boat.  Water temps held around 70 degrees on a cool day with high skies and north winds.  Thanks for the great day and all of the great laughs guys.  I had a blast!
I was back to work on Friday and Fall arrived with stiff north winds and air temps in the 50's.  Hard to believe we were steaming hot just 5 days ago…  Good friend and customer Jon Schlussler from St. Paul, MN returned and brought buddy Greg Kennedy from Sillwater, MN to chase smallies on Chequamegon Bay.  We started out hot boating a couple of nice fish including Jon's fat 21″ bruiser, but things got funky in a hurry.  North winds picked up to over 20 mph, and we had a hard time staying on fish.  Time to move…  We went inland for the afternoon, and it proved to be a good decision.  We were immediately on a hot bite landing lots of good fish up to 20″ on minnows in 13′ – 18′ of water.  It was pure chaos at times with both guys battling fish after fish.  We even connected on a couple of double opportunities that included a late day rally with a bonus walleye.  Water temps inland were around 69 degrees, but I expect that to plummet over the next few days with cold nights in the forecast.  It's always a blast to have Jon in the boat, and Greg was a welcome addition.  Good thing I pointed out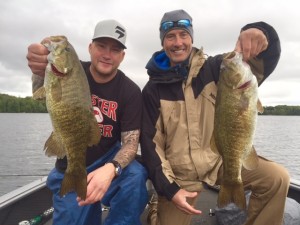 those feeding fish at the end of the day to you Jon…  What would you do with out me?  See you in a couple of weeks my friend!!!
Fourteen years ago the world stopped turning on this day.  In some ways it feels like yesterday and in others it was a lifetime ago.  One thing is for sure, it's not forgotten!!!  To all of our firemen, police officers, and first responders…  Thank you, Thank you, Thank you!  To all of the families of the victims…  You're always in our thoughts.  God Bless America!!!