Chequamegon Bay & Hayward, Wisconsin Fishing Report 8-18-15
The summer of 2015 heat wave continued through the weekend with air temps in the 90's along with high humidity.  We're definitely not used to this, and I'm starting to feel a little well done and extra crispy…  Jon Schlussler from St. Paul, MN returned for his first trip of the year on Saturday, and he brought his good buddies Tim Leach (Staples, MN) and Brenner Perryman (Staples, MN) along for some smallmouth action.  Jon has fished through some extreme weather with me in the past including snow and wind storms, so 90 degrees with no wind was only fitting!  Our original plan was to fish Chequamegon Bay, but the lack of wind forecasted sent us inland to investigate the topwater action we've been experiencing in recent weeks.  Good call!  We put a bunch of fish in the boat throughout the day up to 18″ on topwaters, plastics, and crankbaits in 3′ – 8′ of water.  The larger fish were definitely more active in the morning as water temps hit 82 degrees in the afternoon.  Smaller fish were cooperative all day though, and we had consistent action til quitting time.  Jon even landed a bonus 25″ musky that was neat to
see.  Brenner bailed into the water a couple of times to beat the heat, and we were pretty cooked when it was time to head home.  It was a good day with good guys, and we definitely had lots of laughs.  Once again, I gave Jon a killer tip on throwing that crankbait.  Not quite sure what he'd do without me giving him all that great advice???  Great job fellas.  See you in September Jon!!!
Smallies were on the hit list again Sunday as Nick Gove from New Hope, MN and Tony Trulen from Prior Lake, MN returned.  This time they brought along their good buddy Al Menard from Eau Claire, WI.  We had a tricky wind forecast, and Chequamegon Bay wasn't an option in the morning with gusts up to 30 mph predicted til noon.  No worries!  We headed inland and caught a few fish up to 19′ on plastics, but it was a tough bite and we missed or lost several fish on short hits.  Off to the Bay we went for the pm shift, and I was praying the weatherman had it right.  He did…  We were able to get to the spots we wanted to target, but our first stop turned out to be a struggle.  We boated a few fish up to 18″, but it was obvious they weren't in the mood to play.  Water temps were pretty consistent at 74 degrees.  With time running out in the day, we needed a rally.  The boys came through in a BIG way.  We headed to spot #2 and found a pile of huge fish in 15′ – 10′ of water using minnows.  The final tally included 5 fish over 20″ along with Tony's 22″ hog.  That's our second of the year, and it couldn't have happened to a better guy.  I was proud of the guys for sticking with it and staying positive
throughout the day, and they deserved what may have been the best 90 minutes of fishing I've seen in a long time.  You just never know how the day is going to play out…  Congratulations on some incredible fish gentleman.  That was awesome!!!
Finally…  We got a break from the heat!!!  Tom Current from Oconomowoc, WI and his wife Amber returned to Angler's Haven, and we spent Monday in the Hayward area going after smallmouth.  The plan was to have Amber join us in the morning, and it would be just the guys in the afternoon.  We started the day with a bang as Amber landed an absolute giant 20″ fish that had a belly that was about to bust.  We spent the rest of the morning getting a fish or two on almost every spot, but we had to move frequently to keep the poles bent as we fished minnows and leeches in 15′ – 25′ over rocks.  In fact, someone even caught a rock and thought is was a fish.  We'll keep that one between us though…  After lunch, Tom and I were left to our own devises.  What would we do without our good luck charm in the boat???  The fish must have had pity on us as the action picked up in the afternoon.  We stuck with the same game plan from the morning, and ended up getting into a really good school of fish that kept us busy for a couple of hours.  Our fish in the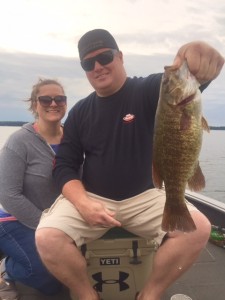 afternoon averaged between 15″ and 18″, and we had a great time catching fish and catching up from last year's trip when Tom fished with me in the rain and snow.  Even though we had undesirable north winds, the cool down sure felt good.  The fish seemed to agree as well.  Thanks for a really fun day Tom and Amber.  See you next year!