Hayward, Wisconsin Fishing Report 8-11-14
Friday was Day #2 of our trip with Michel & Nico Cramer Bornemann from St. Paul, MN.  We were back in the Hayward Lakes area, and focused on walleyes.  It had rained all night and into the morning, and we had overcast skies with a cool east wind all day.  The fish were in a tough mood, but we were able to put a decent day together that included walleyes up to 20″ along with a few small largemouth and smallmouth to go along with them.  We used a variety of presentations, but slip bobbers with leeches along weed edges in 15′ – 18′ of water was most productive for us in the morning.  In the afternoon we switched to dragging crawler harnesses, and that produced our largest fish of the day landed by Michel.  Weeds were holding most of the fish as I looked at several deep rocky spots that didn't appear to have much on them.  Water temps ranged from 71 – 72 degrees, as we've seen a much needed correction in temps on our inland lakes.  Hard to believe we were hitting 80 degrees a week ago…  With walleyes checked off the list, what would day #3 bring for Nico and Michel???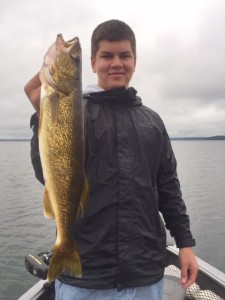 After a little deliberation we decided to spend Saturday going after smallmouth on the lake that had treated us so well on day #1.  It ended up being a mirror image of our first trip there and a good choice for sure.  The morning started a little slow with 69 degree water temps as we covered water with a variety of plastics and topwaters.  Water temps warmed throughout the day, and the action heated up as they approached the low 70's.  Nico and Michel put on another awesome display, and this father/son team were once again impressive landing a bunch of nice fish up to 19″ in 3′ – 8′ of water along shorelines with a mix of rock, weeds, and wood.  Nico got in a good groove working finesse plastics, and Michel patiently worked topwater baits for some explosive strikes.  With time running out on their trip, Michel landed a "last cast bass" that cleared water upon the hook set and provided a perfect ending to a really fun three days.  Thanks for the great company, and congrats on some awesome looking fish Nico & Michel.  Good luck in your tournaments Nico.  We're pulling for you!!!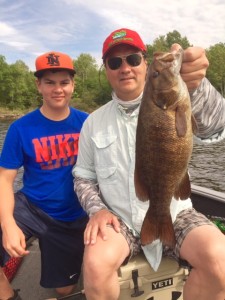 My friends Troy and Jude (12 yrs old) Adams from Hanover, MN along with Bill Adams from Trempeleau, WI returned for a half day trip in the Hayward area on Tuesday, and Jude was once again amazing.  He had three fish in the boat before I could even get a rod in the hands of his dad or grandpa!!!  This kid knows how to get it going…  We were finally able to get Troy and Bill in the game and had a really nice morning catching smallmouth that included a 21″ giant landed by Grandpa Bill.  If I remember right, Bill took home big fish honors last year, and he wouldn't be beat on this trip either.  That was a magnum fish!!!  Leeches and minnows in 15′ – 20′ over rocks produced all of our fish.  We tried a couple of weed edges without much success, and rocks were definitely holding more active fish.  Water temps hit 72 degrees on a sunny day with light north winds.  It's actually starting to feel a bit like fall with the cool mornings we've been having.  Can't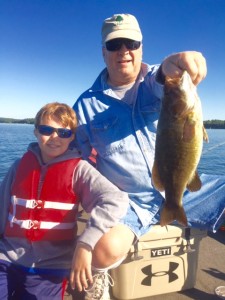 believe I just said that…  Way to go Adams boys, and congrats on some nice fish.  Hey Jude, you're awesome!!!