Chequamegon Bay Fishing Report 5-22-15
Back on the big water this week!  Aron Kastern and I spent the past three days on Chequamegon Bay with an awesome family, and we had great weather to go along with it.  And some big fish as well…  Bob Morris from Fayetteville, AR, Holly and Donnie Williams from Harrison, AR, and Ty and Emily Morris from Springfield, MO made the journey north to catch some big smallies, and they definitely put some bruisers in the boat.  The fish on the bay are transitioning into the spawn, and we found them in an "on and off" kind of mood.  On Wednesday, I had Bob, Holly, and Donnie in my boat, and it was gang busters right from the start.  We got into a school of active fish in our first spot and had a hard time keeping up with the action.  Fish up to 20″ were grabbing plastics in 5′ of water as the crew put on a clinic.  Water temps ranged from 51 – 58 degrees and warmed throughout the day.  The afternoon bite slowed up a bit, but we were able to finish with a flury as Donnie put one in the net on the last cast.  I absolutely love a "last cast bass"!!!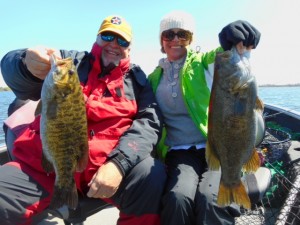 Day #2 began with the same crew in my boat for the a.m. shift.  We had a slow bite to start, and the first couple of hours only produced a few fish, but we were able to figure it out before lunch.  One hot hole in 5′ of water kept us busy as we didn't have to move very far between bites.  Once again, plastics were the key as the gang piled up a bunch of fish up to 20″ in a short period of time.  In the afternoon, we switched up crews, and newlyweds Emily and Tyler joined Bob and I.  The bite had slowed a bit, but were were able to get into a steady bite at the end of the day.  This was Emily's first fishing trip, but she did one heck of a job learning what she needed to do and landed some really nice fish.  I'd say Tyler's got one heck of a fishing parnter!  Water temps warmed into the high 50's, and I began noticing quite a few spawning nest showing up throughout the day.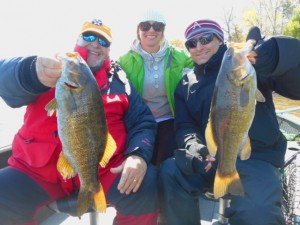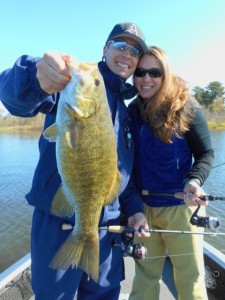 Day #3 had Donnie, Tyler, and Emily in my boat to start the day.  Flat water and high skies made for tough conditions with skittish fish.  We spotted several cruising in the shallows, but biters were hard to come by until we found a school of biters in 3′ of water.  Donnie got us going with a dandy 19″ fish with several more to follow.  The switch turned off rather quickly however, and we had to move locations before getting into more activity.  We went to lunch on a good note though as several nice smallies found the net with a late morning rally.  In the afternoon, the bite slowed once again.  That's been a pretty predictable pattern over the past few days.  It was a "one here, one there" deal.  Bob was back in the boat along with Tyler and Emily, and we weren't able to put together any kind of consistent pattern.  We caught fish up to 19″ on a variety of plastics, but our bites were spread out from 2′ – 5′ of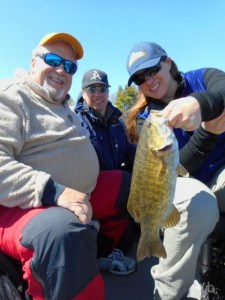 water as we covered a lot of gound.  Water temps ranged from 56 – 59 degrees.  Again, the bite was all about plastics as I ran through a bunch of different crankbaits without any success.  The Morris family did one heck of a job hanging with it though, and Tyler put a nice 19″ fish in the net at the end of the day to wrap things up.  When it was all said and done, we'd put one heck of a three day stretch together with lots of 18″ – 20″ fish betwen both boats.  Thank you to the Morris family for a memorable three days on the water, and thanks to Aron Kastern for another job well done!  Have a great Memorial Day weekend everyone.  Welcome back summer!!!