With the fish safely returned to its home, we glided back to the landing over smooth water with big grins and a timeless memory.
Preparing for the season to come also brings time to reflect on the season that was.  The 2014 open water fishing season came on the heels of our second consecutive brutal winter in northern Wisconsin.  Once again, we weren't able to fish open water until the middle of May and parts of Lake Superior held ice until early June.  Historically, our lakes open up around mid-April and trips are usually planned and scheduled based off patterns we've put together over the years.  Many customers plan their trips with me around the same time frames annually with hopes that trends will be in their favor.  Knock the first month of open water out of that equation, and it leads you to wonder what in the world to expect.  The trend in 2014 ended up being one of some big fish.  My customers recorded the largest crappie, walleye, and sturgeon ever landed in my boat.  In fact, the sturgeon was "the largest fish" ever landed in my boat.  Here are the stories of the fish, the people, and the memories that were made.
I've known the Franchek family for many years.  They're from Dallas, TX but have roots in my neck of the woods.  Their annual family vacation always includes a heavy dose of fishing, and I thoroughly enjoy every opportunity I have to spend time with them.  They're flexible, fun, and don't take things too seriously.  In 2013, Jacob, Coleman, and Stuart had an excellent day on the water chasing walleyes and smallmouth.  This year they had two days
scheduled however, which gave us an opportunity to explore other options.  Cindy would be taking the first shift, and she brought along a newcomer to the crew, Matthew Cox from Arlington, TX.  Cindy is the sort of person you love have in your boat with her great attitude and sense of humor to go with it.  She wanted to get Matthew into as many fish as possible, and we decided crappies would be a smart choice.  I'd been on a consistent bite and thought it would be a great introduction to fishing in Wisconsin for Matthew.
June 23rd started a bit slow with high skies and dead calm water.  We used the trolling motor to chase schools of fish that were feeding on the surface.  Armed with slip bobbers and plastic jigs, we'd lob casts into the schools.  This proved to be a productive tactic, and by lunch we had already caught everything we intended to keep.  Matthew had quickly gotten the hang of what we were doing, and my crew was dialed in.  When we hit the water in the afternoon a few clouds rolled in, and the wind kicked up.  When crappie fishing this is the exact scenario you're looking for, and the fish followed the script.  We parked the boat over a weed bed in ten ft. of water and never had to move.  The bobber would hit the surface and immediately disappear.  All we could do was laugh, which is a common side effect to good crappie fishing.  Around 3 p.m., Cindy set the hook into yet another fish.  This seemed different though.  The rod was buckled more than usual, and I was suspecting that she'd tied into a pike or bass.  Wrong!  When her fish broke the surface five ft. from the boat, I knew instantly it was the largest crappie I'd ever seen.  Without even thinking about it my net was under the fish in an instant, and I'm surprised that I stayed in my shoes.  I've heard tales of fifteen inch crappies on our lakes but had never actually encountered one, and fourteen inches was always an incredibly tough number to crack.  Well this fish broke fifteen and taped out at an amazing 15 ¼ inches.  It
was high fives all around, and picture time!  Cindy agreed that a fish that awesome would be released, and I laid her back in the water to swim away.  I didn't have to explain what a cool experience we'd just witnessed.  Cindy's genuine enthusiasm and excitement made me realized that she was the perfect person to catch that fish.  It was meant for her, and it was meant to be.  The only folks who may not agree are the rest of the Franchek gang who spent the remaining days of their vacation hearing about it.  Brag away Cindy.  You deserve it!
Michel Cramer Bornemann contacted me in the spring to book a trip for himself and his 14 yr. old son Nico.  The Bornemann's are from St. Paul, MN, and Michel had heard about the excellent walleye fishing we have in the St. Louis River and Duluth/Superior harbor.  We'd never fished together before, but they were
experienced.  In fact, Nico is a member of a bass fishing league and competes in tournaments throughout the season.  With a July 4th trip in the books I suspected we had a pretty good chance of getting into a good bite.  However, the walleyes in the St. Louis were turning out to be a bit more challenging than expected.  After the flood of 2012, I was pleasantly surprised to find a thriving fishery in 2013 that included several different year classes of fish.  We had a lot of big numbers days and the fish were active throughout the summer.  With identical spring conditions, I had no reason to think anything would be different the following year.  That's what you get for thinking…  We were getting fish, but not the numbers we'd seen the year before.  Factors such as forage availability and water clarity probably were playing a role, and you definitely had to work to stay on active fish.
Michel, Nico, and I hit the water with partly cloudy skies and comfortable temperatures.  The crank bait bite had started to turn on and our plan was to pull baits along channel edges and on top of flats.  After a short ride to the first spot I planned to fish, I began setting up the rods and explaining our approach.  We'd be trolling a shallow flat in five to seven ft. of water with lots of wood and a few weeds to contend with.  Trolling for walleyes is all about efficiency.  Having everyone on the same page is key to keeping baits in the water and in front of fish.  Slow stretches can also change to chaos very quickly, and everyone in the boat has a role to play when the rods start popping.  After a crash course in trolling 101, I snapped on our baits and began dropping them in the water with the boat moving at a pretty good clip.  We'd be fishing four rods with two in the prop wash one out each side.  As the fourth rod was secured in the rod holder, I looked over my left shoulder and saw the port side prop wash rod bent to the surface with line peeling out.  What a way to start, snagged…  Nope!  As I kicked the motor into neutral, the rod throbbed and went immediately into Michel's hands.  Fish on, and it was a good one.  Turbid conditions in the St. Louis River made visibility extremely tough, and we couldn't see the fish until it was boat side.  When it appeared thrashing behind the boat, I knew we didn't have much time.  Michel was doing his part by carefully playing the fish to the boat, but treble hooks have a tendency to rip out of big fish.  This WAS a big fish!  My short stature wasn't helping us out as I stretched with everything I had to scoop it into the net.  One last lunge and we had it.  Thirty inches is considered the holy grail of walleye fishing, but it's nearly an impossible mark to break in most waters.  I've seen very few over the years and knew this would be close.  The boat had blown into some shallow water during the battle, and I quickly slid the fish into the live well after getting the hooks out so I could move us into a better spot for measurements and pictures.  That's when I really knew we had a big fish.  It seemed like it took forever to shut the live well lid behind its tail.  We had something special here.  I think we were all a bit in shock at that moment.  Did this really just happen?  We buttoned up the remaining
rods and collected ourselves.  Careful measurements were taken, and it stretched the tape to 31 inches.  Double take…  Yep, 31 inches.  What a monster!!!  It was obviously a spawned out female that had yet to put on the feed bag which was probably a symptom of the later than usual spawn.  Or, it was simply an extremely old fish that had trouble keeping on weight.  Without a lot of girth, we could only wonder what it would have looked like a few weeks prior.  Nonetheless, it was a beautiful thing to behold.  After a quick photo shoot, Michele slid her back into the stained water of the harbor.  She quickly disappeared, and the Bornemann's suddenly realized something.  They had a whole day of fishing ahead of them!  Michel's fish wasn't the end of the excitement as we ended up with several good fish by the time we were finished.  Nico put a stamp on it by landing a 27 inch fatty at the buzzer in the exact spot Michel's fish was laying.  It was the perfect ending to an unforgettable Independence Day.  Only one question remains.  Is there a 32 waiting somewhere out there for us?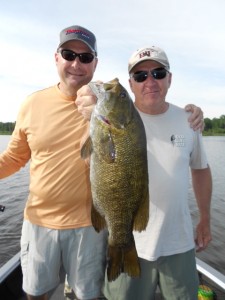 Nate Gove from Crystal, MN and his buddy Bill Roth from Eden Prairie have been fishing with me for several years.  Both are retired law enforcement officers from the Twin Cities and I always look forward to lots of stories and lots of laughs when we get together.  Nate's son Nick has also been in my boat several times, and our trip scheduled for July 12th was the first that all three would join me at the same time.  The day started out with a steady barrage of healthy ribbing, and poor Nick was getting a good dose of it from his father and Bill.  They'd tell you he deserved it, but "Poor Nick" would have the last laugh.  Our day was to be spent targeting post spawn smallmouth bass on Lake Superior's Chequamegon Bay.  A bonus of fishing Chequamegon Bay is the incredible scenery and amazing wildlife that surrounds you.  As we were soaking it all in on a beautiful summer day, sturgeon were periodically jumping out of the water.  If you've never seen it happen before, it's one of the coolest sights there is to see on fresh water.   Thirty to seventy inch prehistoric fish weighing up to 100 lbs. will completely launch themselves into space, do a few acrobatic twists, and crash back into the water with a dramatic splash.  I always get a kick out of the first time people witness it and ask me, "What the heck was that!?"  I've been told several theories over the years as to why they do it, but a quick on line search will confirm that nobody really knows for sure.  It's just one of those mysteries that make fish so intriguing.  When a sturgeon came crashing back to the surface not far off the boat early in the day, Nick commented that it would be cool to catch one of those.
As late afternoon approached, I decided to experiment with some different presentations.  The wrist breaking strike
of a big smallmouth slamming a swim bait tough to beat, and I thought I'd see if they were in the mood.  Besides that, you never know what kind of fish might grab one.  The first cast indicated a good choice as a mean 4 lb. fish smoked my bait half way back to the boat.  That was all Nick needed to see.  He was all about the swim bait!  He began working it methodically back to the boat after long casts, and it wasn't long before he was hooked up on a nice fish.  After quite a tussle with some screaming runs, Nick landed a fat 40" pike.  You weren't going to pry that rod out of Nick's hands now, and he certainly wasn't going to offer it to his father or Bill.  After some quick photos and release of the pike, Nick was back at it.  We were fishing in relatively shallow water and I noticed that his bait was periodically contacting bottom on the retrieve.  As I was tending to business in the back of the boat, Nick grunted.  I looked up to see his rod bent over and his reel locked up.  The area we were fishing had plenty of wood scattered around, and I went to the bow to help him pop the lure from a stump he was hung on.  When I took the rod from him and put some tension on it, line began zipping off the reel.  This was no stump!!!  The rod went back in Nick's hands, and I could only encourage him to hold on.  The long powerful run made me suspicious.  We weren't dealing with a bass, and it probably wasn't a pike.  Nate and Bill cleared their rods, and I dropped in the trolling motor to chase a fish that was threatening to spool us.  By the time we were moving in the right direction I could see the backing on Nick's reel.  We quickly gained some ground and reclaimed most of the line that was lost.  The 10 lb. braid and 8 lb. fluorocarbon leader on medium light spinning gear were maxed, and I told Nick that we had to be extremely patient if we were going to land this fish.  For nearly an hour a game of give and take went on as Nick fought the fish flawlessly while Nate, Bill, and I barked every instruction we could think of.  As if it would help…  Mostly we just held our breath.  Run after run we chased the fish with the trolling motor, and Nick would take in line when he could.  Around the thirty minute mark, we got a glimpse of the beast as Nick brought it close to the surface.  Big Sturgeon!!!  The fight wasn't over however, and we were in for several more long runs before I made a tough decision.  Nick had been fighting the fish with a fairly loose drag as I'd instructed, but it seemed tireless.  A battle like this on light gear can only go on so long before something gives so I added one click on the reel drag.  Nick continued to patiently work the fish in with long pumps of the rod, and it
looked like the tide was turning.  I grabbed the musky net and got in position.  As the fish broke water at boat side and without much room to spare, Nick's fish was in the bag.  Nate, Bill, and I roared while Nick fell to his knees.  What a battle, and what a fish!  As we admired the beautiful creature in our net I knew that I'd never dealt with a sturgeon this big, or a fish this big for that matter, in my boat.  With extreme care, Nick and Nate hoisted the fish out of the net for one of my favorite pictures ever.  Before it was released, my measurement from tip to tail hit 56" which made it the largest fish ever landed in my boat.  The 55 minute saga had ended, and Nick received some well-deserved pats on the back.  Nate said it best, "That was Outstanding!"  With the fish safely returned to its home, we glided back to the landing over smooth water with big grins and a timeless memory.  Outstanding indeed.