Chequamegon Bay & Hayward, Wisconsin Ice Fishing Report 3-4-15
With the big laker bite happening in some areas around the Apostle Islands, Aron Kastern made an attempt to get after them this week, but found some of his favorite areas covered in impossible pack ice.  Some of which jutted 5″ to 6″ in the air.  Not good on equipment or morale…  No worries!  The whitefish bite has treated Aron and his crew well this winter, so he decided to stay with a good thing.  After a week of daddy duty with his new boy Boone, Aron was back at it in full force.  He reports that the whitefish size is improving with average fish running around 20″ and some topping 4 – 5 lbs.  Fish are suspended in 50′ – 100′ of water with fantastic catches on most days and good numbers of fish being caught.  Flashy spoons tipped with live bait and plastics continue to
produce and provide plenty of grub for the smokehouse.  Funny how a guy accumulates friends and relatives when there's fish to be given out!  With warm temps in the forecast, Aron suspects the near shore trout bite in Chequamegon Bay will begin to produce mixed bag catches of steelhead, browns, and cohos.  The perch population on the bay seems to be making a bit of a comeback, and the spring run for 9″ – 11″ fish can be productive as well.  There's even a few that will hit the 13″ mark.  With many efforts made to bring this population back, let's learn from history and protect these fish.  Keep a few for a meal, and put more back than you take.  They're a vital part of our fishery and just plain fun to catch!
Aron reports smooth travel conditions throughout most of the bay and from Washburn to Bayfield with 18″ – 24″ of good ice and little snow.  Pictures include CJ Compton, some guy with a lot of facial hair…, Sean Tschida, Paul and Sharon, and Brad Joanis.  Thanks for the great pictures and report Aron.  Don't forget to save some fish for me!!!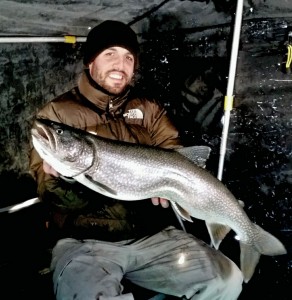 Josh Teigen has spent the past week exploring for good ice and good lakers on Lake Superior.  It's safe to say he's found both!  He spent a day with Rachel and Clint chasing big fish, and they put a few whoppers on the ice including a fat 35″ fish landed by Clint.  Awfully nice of Rachel to let him have that bruiser I'd say!  They spent the day in 100′ –
140′ of water working jigs and Jerko plastics.  Targeting big lakers this time of year is usually not a big numbers game, but you'll certainly remember the ones you catch.  Nice work Clint and Rachel.  Great looking smiles, and great looking fish!
Next it was time for the guide himself to get in on the action.  With 50 mph. wind gusts and only 30 minutes to fish, Josh and his buddy John Darwin scoped out an area that looked fishy.  They found good ice and one heck of a fish.  The 39″ laker pounded Josh's tube in 130′ of water, and the rest is history.  Josh says he got lucky, but I know better than that.  I've always been a believer that "You make your own luck.", and this would be an example at its finest.  Josh and John scratched an itch, and they were rewarded with the kind of fish many people spend a lifetime looking for.  Way to go guys.  You earned that beast!!!
After a tough weekend with a slow near shore bite that only procuced a few cooperative lakers and whitefish in 40′ – 60′ of water on spoons, Josh turned his attention back to big water and big lakers early this week.  He hooked up with his old buddies Rusty, Mark, and Chester.  They put some nice fish up to 34″ on the ice in 100′ – 140′ of water using blade baits.  Josh said they also lost as many as they caught which is often the case with these fish.  They're tougher than tough, and there's a big difference between hooking up and landing one.  They give you everything they've got and then some.  Like Aron, Josh
predicts that the trout bite in Chequamegon Bay will be turning on soon with good mixed bag catches of browns, cohos, and steelhead.
Inland fishermen in Wisconsin should take note that the game fish season ended on March 1st, but you can still chase panfish as long as we have good ice.  Lake Superior and Chequamegon Bay however remain open to all species.  Have a great week everyone, and think spring!!!