Hayward, Wisconsin Fishing Report 9-28-14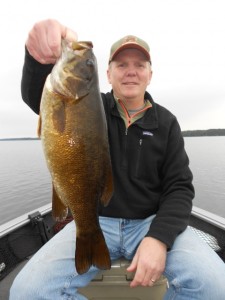 If you haven't been in our neck of the woods over the past four days, you've missed out on spectacular weather and colors with a few fish to go along with it!!!  It's been an amazing few days on the water, and I can only hope it continues.  My good friends from Iowa returned on Thursday with Larry Ness from Cedar Rapids, IA and Devin Bruening from Decorah, IA joining me in the morning.  We had high skies, warm temps, and flat water to contend with, but we were able to put a mixed bag of smallmouth, largemouth, and pike in the boat that included an impressive 20.5″ smallmouth landed by Larry.  We caught fish in anywhere from 10′ – 20′ of water on jigs and minnows as they seemed to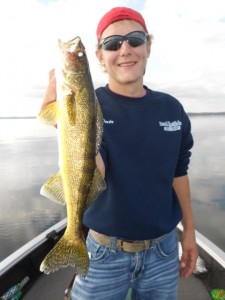 be scattered in various locations.  It was Larry's largest smallmouth ever caught and a great fish for sure.  Devin's dad Paul took Larry's spot in the afternoon, and we put another mixed bag in the boat that included walleye's up to 14″, pike up to 25″, and smallmouth up to 18 1/2″.  Devin landed an absolute pig smallie at the end of the day that was shaped like a hub cap.  It was one of those days were you had to work for every fish, but they were well worth the effort.  Those are some great looking smallies!!!  Again, we worked jigs and minnows in 10′ – 20′ of water.  Water temperatures warmed to 63 degrees by the of the day.  Love this weather and fishing with this crew!!!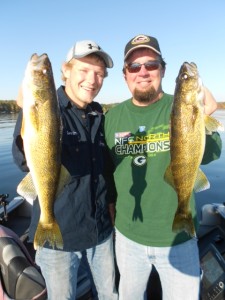 Devin Bruening was back with me on Friday, and he was joined by Chuck McLaughlin from Mason City, IA.  Once again, fair skies, warm temps, and light winds were in the forecast.  We moved deeper to find some walleyes in the morning, and got on a good bite almost immediately.  Jigs and minnows in 35′ – 40′ of water produced fish up to 17″ throughout the morning with steady action until we broke for lunch.  The boys did a good job of sticking with the bite and being patient on the hook set.  Paul jumped back in the boat for the afternoon, and it was soon evident that this was the Devin Bruening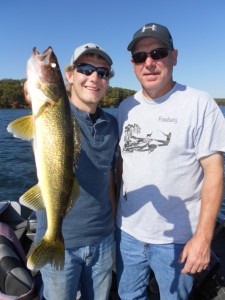 show!!!  He's obviously been taught well, and it sure was nice of his dad to let him catch all of those fish!  What are dads for???  The walleye bite slowed by mid afternoon, so we switched to smallies and caught some nice fish.  Again, Devin landed a tanker 19″ fish that was stuffed to the max.  As if Paul wasn't generous enough, he even let Devin land the largest fish in their double.  What a guy!!!  Water temps warmed to 63 degrees again by the end of the day, and the smallies had all pushed shallow in 5′ – 10′ of water.  Jigs and minnows did the job for us in the afternoon as well.  It had been two great days spent with one heck of a fun crew of guys.  Paul, give me a call so we can turn the tables on that son of yours next year!!!   Sorry Devin…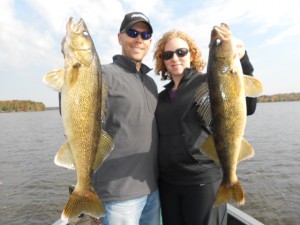 One of our favorite couples returned for their annual fall trip, and what a trip it was!  Jim and Sarah Oyen from Atwater, MN have quite a history with us that includes lots of big walleyes.  Well, this time around would be no different except we had stellar weather to go along with stellar fishing.  Usually a major cold front greets the Oyens when they arrive, but we may have finally gotten rid of the demons!!!  We got off to a fast start on Saturday that continued through the morning and included several walleyes over 25″ that were all released.  A few keepers under 20″ also made it into the boat, and it was a bit chaotic for awhile with constant action that included a nicely executed double on some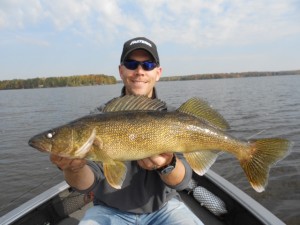 mid 20's fish.  I'll take that kind of chaos any day!!!  It was one heck of a performance by this team, but I didn't expect anything less.  Our largest fish in the morning was a 26 1/2 stud landed by Jim that thought it was a musky.  Sure had us fooled!  A morning like that was going to be tough to beat, and the afternoon bite slowed dramatically.  We ended the day by catching a few crappies, and reflecting on all of the big walleyes we had put in the net.  All of our walleyes were caught in 15′ – 30′ of water on jigs and minnnows.  Our crappies were caught on plastics in 20′ – 25′.  Water temperatures peaked at 64 degrees on yet another incredible fall day.  Something about these two in my boat always produces big fish and great memories.  Congratulations Jim and Sarah on one heck of a day.  Here's hoping you've been "Oyened" for the last time!!!
Sunday brought more great weather, more great folks, and more great fish.  Dennis Wiitanen from Mauston, WI surprised his wife Jody with a fishing trip, and the weather man along with the fish read the script.  Jody had never caught a walleye or a smallmouth bass before this trip.  Say no more…  We got onto a good walleye bite that lasted through the morning and produced some nice fish up to 20″ on jigs and minnows in 30′ – 40′ of water.  Jody was an excellent student and got the hang of deep jigging very quickly.  Dennis provided the excitement of the morning when he had a monster musky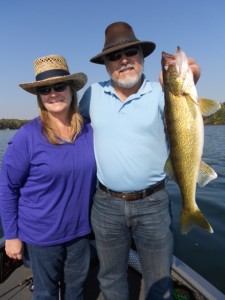 chase his 17″ walleye up to the boat and make an attempt at it.  This was an upper 40's fish at least that looked like a submarine as it charged the boat and latched onto the walleye for a brief moment.  Must not have been the right flavor!!!  That definitely got our hearts pumping though.  Think I'll be paying that fish a visit in a few weeks!  We switched our attention to smallies in the afternoon and found fish in 5′ – 10′ of water on jigs and minnows.  It wasn't a hot bite by any means, but we were able to put some nice fish up to 18″ in the boat.  We even stumbled into a nice walleye laying in 5′ of water.  What the heck was he doing there???  Nice job Dennis and Jody!  Awesome weather, awesome people, and awesome fish.  Somebody pinch me!!!