Hayward, Wisconsin Fishing Report 6-27-14
Texans always claim to like big things, and apparently crappies are included on that list!  One of our favorite families from the  Lonestar state arrived this week for two great days of fishing that included a "First Ever" in my boat.  Cindy Franchek from Dallas, TX brought along newcomer Matthew Cox from Arlington, TX for his first guided fishing trip on Monday, and we worked over the crappies all day long.  The day started a little slow with flat water and high skies.  We started by focusing on chasing surfacing fish with the trolling motor and casting into the schools from a distance.  We had a very productive morning catching lots of fish up to 12″, and Matthew did a nice job of learning all of the techniques we were teaching him.  After lunch, the wind fired up and so did the bite.  We dropped anchor and never
had to move the rest of the day.  Cindy and Matthew wore them out.  Now I've always heard rumors of 15″ crappies, but I've never actually seen one in my lifetime.  That's no longer the case!  Cindy reeled in a 15 1/4″ beast that stands as the best crappie ever in my boat.  What an awesome fish!  After a few photos we put her back in the lake and it was high fives all around.  We fished with plastics under slip bobbers throughout the day in 8′ – 14′, and water temps ranged from 69 – 71 degrees.  Very, very cool…  That's a fish I'll never forget.  Thanks Cindy!
On Tuesday, Cindy brought along her sons Coleman from Dallas and Jacob from Houston who returned with the memory of an excellent walleye outing we had last year.  They were interested in repeating that performance so we set out to do just that.  Our first spot only produced one walleye and an 18″ smallmouth.  A move to a different location proved to be a good decision as the gang had their limit in the boat within minutes with lots of fish released up to 19″.  The key right now is to find active
schools of feeding fish, and once you do it doesn't take long to get the rods bending.  Even though you may pull into a spot that you know has fish, that doesn't mean they'll bite.  The ability and willingness to move will generally pay off on larger bodies of water as there are usually active fish somewhere.  We fished weedlines in 14′ – 18′ of water with slip bobbers and leeches along with jigs and minnows.  With storms rolling in during the afternoon, it looked like we would be right in the line of fire.  Those radar apps on our phones sure are handy!  We moved to a safer position and finished the day in a crappie fenzy as northeast winds blew in a nasty cold front and air temperatures dropped 20 degrees by the time we were done.  I found out that Cindy absolutely loves cold weather, and I don't think she'll be booking an ice fishing trip  any time soon…  Our crappies bit plastics under slip bobbers in 8′ of water, and we had fish up to 12″ that were all released.  We had 68 degree water temps to start the day, but they began dropping and ended at 67.  The Franchek's did an awesome job once again, and it was a pleasure having them back in my boat.  Cindy, I'll see you and Richard in July.  Can't wait!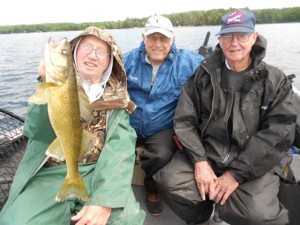 I've had the great fortune to share some great experiences with awesome folks over the years, and the past two days were as memorable as any.  Clyde Salzmann (age 95) from Annawan, IL booked this trip last winter for he and his two long time fishing partners Dave Marchand (age 80) from Shippenville, PA and Denny Marchand (age 79) from Kewanee, IL.  After a long journey, we were all in the boat on Wednesday morning for some nasty weather.  Nasty is probably putting it lightly…  The day started with rain, 45 degree air temps, and strong NE winds.  We managed a
couple of walleyes up to 19″ in the morning along with an 18″ smallmouth in 15′ of water on slip-bobbers with leeches in some extremely difficult conditions.  In the afternoon we moved to a different lake and targeted crappies.  Strong NE winds persisted, but the skies opened up, and we were able to put a few fish in the boat up to 12″ in 10′ of water on slip bobbers and plastics.  It was a very tough bite.  Quite a change from the day before!  Water temperatures held at 67 degrees throughout the day.  Clyde, Dave, and Denny weathered the storm well, and we made the best of our day with lots of laughs and great stories.  Hey…  What else can you do???  With a favorable forecast, we ended the day optimistic for a change in fortune on Thursday.
What a difference one day can make!  The boys were looking to catch as many fish as possible, and crappies were our best bet.  The wind turned to the SE, and Dave got us rolling on his first cast with a 12″ crappie in the boat.  It was gang busters from there!  Everyone got in the mix as they caught fish after fish throughout the morning in 8′ to 10′ of water on plastics under slip bobbers with our largest fish topping out at 13″.  If was a fabulous morning, and it was a pleasure to watch these old friends enjoy some great fishing and great company.  After suffering through the previous day, they deserved it!  Clyde decided that we should scout out a different lake in the afternoon.  In his 95 years I don't think he's been wrong too many times, and I wasn't about to argue…  Good choice Clyde!  We had a very productive and enjoyable afternoon catching crappies, pike, bass, and a variety of other panfish.  Our largest crappie was 12″ and we found everything buried in cabbage weeds in 6′ to 8′ of water
using slip bobbers and plastics.  Water temperatures ranged from 67 to 70 degrees.  I can't thanks these guys enough for two days of incredible memories.  All of the single ladies out there better watch out for Clyde.  He's one heck of a dancer, and he's looking for a partner!  It's pretty humbling to realize that there was 254 years worth of fishing and life experience in my boat over the past couple of days.  It was my pleasure and an honor fellas, and I can't wait to do it again!