Hayward, Wisconsin & Chequamegon Bay Fishing Report 5-26-14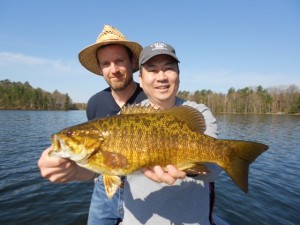 This weekend was superb in every sense, and I couldn't have written a better script.  Warm weather has officially returned to Wisconsin in a big way.  Temperatures in the 80's have definitely kicked things into gear on all of our lakes, and the fish seem to like it as much as we do!  Peter and Tom Wuest from the Twin Cities kicked off Memorial Day weekend and got us off to an incredible start.  These brothers put the slam down on pre-spawn smallmouth bass big time.  They couldn't lay off  jerkbaits in 4′ to 6′ of water, and we caught fish consistently throughout our half day a.m. trip with the largest being a 20″ tub that Tom nailed right away to start the day.  I couldn't even pick up a rod as these two caught fish after fish and kept me busy on the net.  That's how it should be!  There were some friendly wagers going
back and forth on who would catch the next fish, but I lost track of who owed who!!!  Water temps ranged from 56 to 57 degrees with high skies and warm southwest winds.  Thanks for an incredibly enjoyable trip gentlemen.  Peter, I look forward to seeing you and the boys later in the summer!
Josh Teigen, Aron Kastern, and I teamed up on Sunday and Monday for two great days with a super group of dudes on Chequamegon Bay.  Dennis Kidd (Bartlesville, OK), Craig Abrahamson (Tulsa, OK), Lou Gros (Thibodaux, LA), Louis Tu Tu Gros (Thibodaux, LA), Joel Kantor (Tulsa, OK), and Johnathan Dancer (Bartlesville, OK) all joined us for an incredible two days of great weather, great fishing, and great laughs on Chequamegon Bay.  These guys are hard core fly fishermen, and it was a special treat to watch them do their thing.  They put on an impressive display with both flies and spinning gear as all three boats landed more fish than we could count with the largest topping out at 21″.  Water temps soared into the low 70's by the end of our trip, and I'm sure the spawn isn't far
behind.  Jerkbaits, crankbaits, and swimbaits all caught fish on spinning gear in 2′ to 6′ of water.  Color and size preference seemed to change throughout the days, so we did a lot of experimenting to dial things in.  We also added a bunch of bonus Pike to our totals with the largest being a 38.5″ beauty landed by Dennis on a fly rod in Josh's boat with my boat watching close by.  What a show!  Very cool…  I definitely have a new respect for fly fishing and the guys that do it.  Landing a 20″ smallie on fly tackle is no easy task, and these guys are a credit to their craft.  Thanks for a great time fellas.  We had a blast and can't wait to do it again!
We hope you all had a great Memorial Day Weekend.  To all Vets past and present…  Thank you, thank you, thank you!!!