Hayward, Wisconsin Fishing Report 5-14-14
My good friend from Mauston, WI Brent Jacobson and his father in law Otto Gunther headed north just in time for a nasty weather system to show up.  They were greeted on Monday by rain, fog, wind, and temps in the 40's.  Welcome to northern Wisconsin!  Lucky for us however, the crappies were cooperative.  We put together one heck of a day catching fish up to 13″ and putting a few fillets in the freezer for the guys to take home.  We only found one spot during the day that had a lot of fish stacked on it however.  Otherwise we needed to move around a lot, usually only catching a few with each stop.  By the end of the day we were cold, wet, and more than satisfied with our results.  All of our fish were caught in 6′ to 7′ of water with water temps ranging from 46 to 53 degrees.  Warmer bays definitely produced better action.  Plastics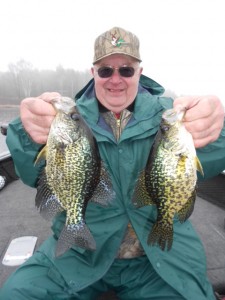 suspended under slip bobbers produced all of our fish, and a warm fire in the wood stove sure felt good when we got home.
As if the weather couldn't get any nastier, Tuesday was even worse…  30 mph winds, and rain made for a tough day on the water.  We had walleyes on the brain and gave it a valiant effort, but it wasn't to be.  Thank goodness Otto kept us from getting skunked and landed the only walleye.  He was awful lonely in the livewell, so back he went.  His lucky day!  We also stumbled into a few smallmouth with the largest at 18″ landed by Brent while we pitched jigs and minnows and crankbaits in anywhere from 10′ to 25′ of water throughout the day.  We covered all of the bases, but it just wasn't going to happen for us.  Early spring fishing can sometimes be hit and miss, and a nasty
cold front can shut things down in a hurry.  It was a courageous performance by the boys, and we had a great time regardless.  Thanks to Brent and Otto for a great couple of days.  Brent, I'll see you in June my friend, and I'll put in a good weather request!!!