Hayward, Wisconsin Fishing Report 9-28-13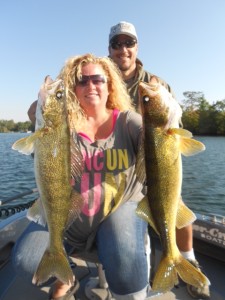 What a way to end the week!  Good friends and long time customers Chris and Jolene Severt from Cameron, WI brought beautiful fall weather with them as well as excellent fishing.  We had great weather with sunny skies and moderate south winds that let us drift perfectly as we caught walleyes up to 22″ and smallies up to 21″ throughout the day on jigs and minnows over weeds and rocks in 15′ to 20′ of water.  Water temps were steady at 63 to 64 degrees, and we had consistent action on a day that was excellent in all respects.  Chris and Jolene always tend to bring good weather and good fishing with them.  I wish they would share their secret!!!  Great job guys, I had a blast!!!
Bill and Ruth Whitfield from Fayetteville, AK along with daughters Cindy and Cheri arrived on Friday for their fall trip with kites in hand as they battled 20 – 30 mph winds for two days of smallmouth fishing with Terry Peterson and I.   The Whitfields love their smallmouth bass, and they had some dandies to show for their efforts after this trip.  Cheri and Cindy were in my boat both days and we started off right putting some nice fish in the boat on Friday that included a solid 21″ fish landed by Cheri.  Strong winds made boat control a challenge.  When we were able to hold on our spots, the fish were there and cooperative.  We used jigs and minnows in 10′ to 18′ of water over rocks throughout the day, and water temps continued to stay in the 63 to 64 degree range.  With the promise of lighter winds on Saturday, we hit the water again only to be greeted with stronger winds and rain to go along with it.  Perfect!  Cheri and Cindy were troopers though, and we put some incredible fish in the boat that included a 21.5″ brute landed by Cindy.  We used jigs and minnows in 14′ to 20′ over weeds and rocks.  Water temps held at 63 degrees.  Just before the monsoons arrived, the girls put together a fabulous double.  It was the perfect ending to their trip.  Another impressive showing by the Razorbacks.  We can't wait to see you next year!