Hayward, Wisconsin Fishing Report 9-25-13
It's been a beautiful fall week with warm temps, sunny skies, and some nice fish.  We started out the week with a blast from the past.  Former Tomahawk H.S. and UW Lacrosse football standout Eric Halverson and his father Carl joined me on Monday.  Eric and I played ball and wrestled against each other in high school, and I have to admit (reluctantly!) that his teams got the best of us.  Well, that didn't change on the lake over 20 years later either!!!  Eric put on a clinic as Carl and I did our best to keep up with him.  We caught smallies up to 20″ throughout the day along with a nice 20″ walleye and a small musky in the mix.  There was a stiff south wind pushing fish into weedlines and we used jig and minnow combinations in 10′ to 15′ of water.  Water temps ranged from 63 to 64 degrees.  It was a steady bite throughout the day, and we shared a lot of laughs reminiscing about the glory days.  Funny… I could swear Bruce Springsteen was singing in the background!!!  Thanks to Eric and Carl for a truly enjoyable day on the water.  I had a blast!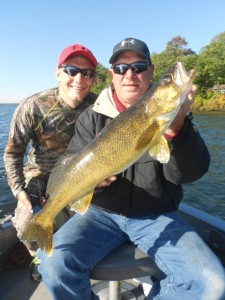 Tuesday was spent fishing out of Angler's Haven  with Greg Lewis and his crew from Iowa.  It was a day of big fish!!!  Devin Bruening and his father Paul came along in the morning and after a slow start with a few small pike, Paul landed a dandy 28″ walleye in along a 15′ weedline on a jig and minnow that looked like he had been putting on his fall weight.  It was Paul's personal best walleye and a beauty.  Then we turned our attention to smallies.  Devin landed his personal best, a dandy 20″ fish.  We caught several fish on jig and minnow combinations around rocks in 10′ to 15′ of water throughout another brilliant fall morning with warm temps, light winds, and 61 – 62 degree water.  In the afternoon, Chase Christopher and Jeremiah Andrews hopped in the boat, and we started out hot with Jeremiah and Chase both landing their personal best smallies, 21″ magnums in 10′ of water.  It was flat calm and water temps had climbed to 64 degrees.  I was a bit surprised, but not complaining…  After a mid afternoon lull that left me scratching my head for awhile, we got into some fish at the end of the day that included a tank 28.5″ walleye landed by Chase on a jig and minnow that was as full as he could be.  It was Chase's personal best.  What a fish, and what a day.  After this season, there's no doubt that folks form Iowa can catch big fish.  Great job guys!!!
Wednesday brought more sun, warm temps, flat water, and a very nice crew from sunny California.  How fitting!  Valerie Lynch and her son Tom from Palm Springs spent the morning with me.  Although the weather was stellar, the fishing was tough.  I've noticed over the past few days that fish are very scattered with very little concentrations, and this morning was a great example.  We bounced around to 4 different spots before we found feeding smallies in 10′ to 13′ of water holding on rocks and weeds.  Fish ranged from 14″ to 18″, and they were coughing up crayfish and small perch on their way into the net.  Add in a bonus pike along with a chaotic double, and we put together a pretty good morning all things considered.  Water temps held pretty steady between 63 and 64 degrees throughout the morning, and our fish were caught on jig and minnow combinations.  I'm also happy to report that Valerie and Tom (Wisconsin natives) have stayed true to their roots and are still pulling for the Packers and Badgers.  On Wisconsin and Go Pack!!!