Hayward & Chequamegon Bay, Wisconsin Fishing Report 9-15-13
The transition from summer to fall is always an interesting time of year that usually produces a mixed bag of fish with mixed results.  Although we're three weeks behind historical fishing patterns due to our late spring, this year's transition has been no different.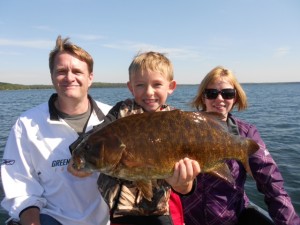 Six year old Noah Lauterbach from Spooner, WI brought his mom and dad, Jane and Rick, along on Wednesday in an attempt to catch his first walleye.  It proved to be a difficult task, but Noah was up to it.  His first walleye was a 17″ caught on a crawler harness pulled along a 15′ weed edge.   That wasn't enough for Noah however…  He also managed to boat his largest smallmouth bass, a 21″ giant along with his largest pike, a nice 30″ fish that Noah battled from start to finish.  We definitely have a fishing star in the making here!  Water temps ranged from 71 to 72 degrees throughout the day and we bounced around various structures to find fish.  Weedlines and deep rocks all held fish, but we had to keep moving to find willing biters using a variety of live bait presentations.  Noah did a superb job, and it was great having his family share in the experience.  Along with fishing, Noah also has a promising wrestling career ahead of him posting a 12 – 2 record on the mats last year.  Great job Noah, and remember to keep those promises to me!
Good friends Lance Rossing and Chad Berget from Argyle, WI joined me on Thursday in search of a mixed bag.  We started the morning pulling crawlers along weed edges producing only one small walleye.  Once we switched to jig and minnow combinations the action picked up instantly.  Again, typical for this time of year.  Although walleyes proved difficult with many missed fish on short hits, we caught smallmouth, largemouth, and pike throughout the day with Lance landing a fat 19″ bucketmouth and Chad landing a very nice 19″ smallie respectively.  Our largest walleye was 16″.  All fish were caught on deep weed edges as water temps began to cool ranging from 69 to 70 degrees.  Chad and Lance did a nice job picking up the snap jigging technique we use this time of year and they were great company on a fun day of fishing.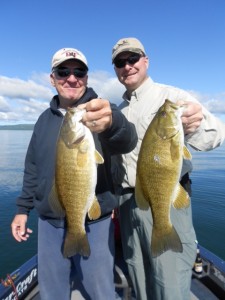 Friday brought a trip back to Chequamegon Bay as Nate Gove returned with his good friend Bill Roth, both from the Twin Cities.  Our day was filled with great weather, lots of laughs, and lots of big fish.  We had bluebird skies with barely a ripple on the water, and much to my surprise, we put one heck of a day together.  The morning was a bit slow with a fish here and a fish there, but once we found a good current break in the afternoon the action was non stop.  We had several doubles with smallies that averaged 19″ throughout the day that included two monster 21.5″ fish Bill and Nate each landed.  Add in a rogue coho salmon landed by Bill and a fat 32″ pike that Nate had to hand over hand in after his line snapped, and you have a day that will be remembered for a long time.  It's always a gas watching grown men laugh like kids having a blast on the water.  That's what it's all about!  Water temperatures held around 64 degrees throughout the day, and all fish were caught with sucker minnows on rocks and weeds from 10′ to 25′ of water.
 Back to Hayward on Saturday with long time customer and friend Jim Oyen from Atwater, MN.  Jim is usually accompanied by his wife Sarah who's at home awaiting the birth of their second child.  This year Jim brought along his friend Steve Lindstrand and we spend the day searching for walleyes.  Locating them wasn't an issue as we caught a couple of small fish right off the bat and had quite a few drops with the tell tale tooth marks on the backs of our minnows.  It was a struggle to find keepers however, and it took most of the day to find some for the livewell.  We also boated some very nice smallies along the way with Jim landing his personal best, a giant 21″ dude that needs to go on a weight loss plan.  Largemouth and pike were also active as we snapped jigs and sucker minnows through the weeds, and the boys worked hard for every fish they caught today.  Walleyes ranged from 14″ to 17″, and they definitely continue to be moody with many short hits and missed fish.  That will change as the water cools.  Water temps ranged from 68 to 69 degrees.  Our day also included a bit of unexpected excitement as a curious loon somehow tangled himself in Steve's line as he was reeling in a fish.  Unbelievable!!!  If you've never hooked into a loon, I can tell you that they don't come in easy…  Just ask Steve!  After chasing him around for awhile in an attempt to free him, fortunately he was able to get loose.  We counted him as a catch however as I was able to touch the leader, Florida Keys style!!!  Needless to say Mr. Loon left in a hurry after that experience, and I would expect he's half way to the Gulf of Mexico by now.  To this date, that's the first and nicest loon ever landed on one of my trips.  Great job Steve!  Thank you to Sarah for the great gifts sent, and best wishes to the Oyen's on the pending arrival of their new addition.  I'm already looking forward to next year!