Hayward, Wisconsin Fishing Report 8-24-13
It's definitely August!  Fishing can get a bit inconsistent at this time of year, but if you stick with it, you can still have productive days with some nice fish to show for it.  The great people I fished with this week proved it.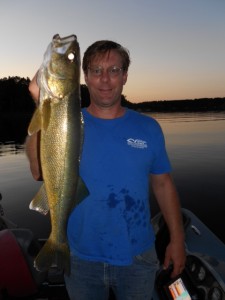 Steve Larson from Mississippi returned on business this week and joined me Wednesday for another evening in the boat along with his friend Cary Pooler.  We planned to catch smallmouth, but the fish had other ideas.  While searching for active fish, which didn't happen, we stumbled into a bunch of walleyes.  Not a bad consolation I'd say!  We caught several fish along weed edges in 10′ of water on jigs and minnows and crawlers under slip bobbers.  Most fish were small, ranging from 12″ to 17″.  Water temps held at 76 degrees, and it was a beautiful evening with flat water and a bright full moon guiding us into the landing at the end of the night.  Steve and Cary were great company, and their efforts were rewarded with a bag of fillets to take home.  Steve also came through with a block of lead for my jig production this winter.  Many thanks Steve!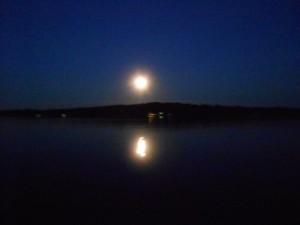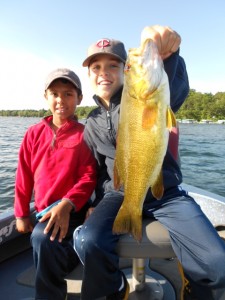 Peter Wuest from Minneapolis brought his two sons Joe (10) and Max (8) out for a morning of fishing with me on Thursday, and the Wuest boys had one heck of a trip.  Smallies bit consistently throughout the morning on a near perfect day with air temps in the high 70's, sunny skies, and light south winds.  Many fish in the 16″ t0 17″  range were boated by Joe (Smokin Joe) and Max (Maximum), but dad put the trophy of the day in the boat with a fat 19″ whopper.  All of our fish were caught using slip bobbers with crawlers and minnows on deep rocky humps in 15′ to 20′ of water, and they were gorging on crawfish as they left the evidence behind in my boat.  Water temps ranged from 72 to 73 degrees.  Even though they're Twins and Vikings fans, I must say the Wuest men are fine fisherman.  Peter, Smokin Joe, and Maximum are welcome in my boat any time!
Friday's weather dealt us a bit of a tough hand.  Terry Peterson and I teamed up to guide Rod Green, Bryan Burgoyne, Tim Branson, and Rick McKenney from the Twin Cities.  More Twins and Vikings fans!!!  We had high skies and flat seas on a warm day that made us work for every fish we caught.  Rod and Bryan were in my boat, and we started out by working the deep rocky structure that had been producing earlier in the week.  The fish were there, but they weren't biting.  We switched our approach and began working jigs and minnows over 15′ weedbeds.  Although the bite was slow, this produced some very nice fish for us including a 20″ stud that Bryan landed just before lunch.  We never caught more than 2 fish on a spot and moved quickly to locate feeding fish.  Water temps reached 74 degrees, and we barely had a ripple on the water throughout the day.  The fish Rod and Bryan caught were well earned and well deserved for two great guys that kept me laughing throughout the day.  "Green…  You're all done!"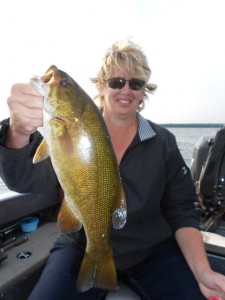 The wind returned on Saturday, and do did the bite.  Thank goodness…  Gary and his wife Jeanne Swenson from Ames, IA spent the morning with me catching smallies that ranged from 16″ to 20″ over rocky humps in 15′ to 24′ of water.  The wind was pretty stiff out of the south from the start, and it built throughout the morning.  We had a hard time getting the anchor to stick by the time we were done.  Fish were caught on crawlers under slip bobbers and jig/minnow combinations.  One point of interest was that most fish were caught on crawlers, but the larger fish were caught on minnows.  I'll be interested to see if that pattern continues.  Water temps held steady throughout the morning at 74 degrees, but I'd expect that to climb dramatically with the heat wave that's predicted over the next couple of days.  Jeanne did an awesome job setting the hook and fighting fish while Gary put the Cranker of the day in the boat right before quitting time.  Perfect!  Great job guys!
Congratulations to Gayge Schroeder on his first big pike, a fat 33″ caught with his father, Damon Schroeder from Hayward Power Sports.  Way to go Gayge, that's one heck of a fish!  He's taking after his daddy!!!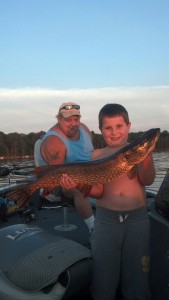 The Northland lost a dear friend this week.  Paul Wick from Angler's Haven resort in Hayward passed away on Thursday.  Paul was a true gentleman that made everyone he met feel like a lifelong friend.  Rest in peace Paul.  You'll be missed!