Hayward, Wisconsin Fishing Report 7-28-13
45 degrees in July…  Are you kidding me???!!!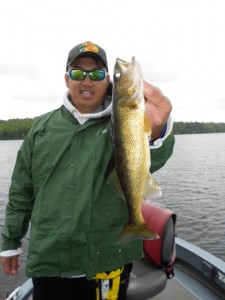 Little did Tom Lee from St. Paul, MN know when he booked his end of July trip with me that he would be faced with end of October like conditions.  Having seen just about every type of crazy weather over the years, I have to say that this was a first for me.  We were greeted at the boat landing with strong northwest winds, pouring rain, and 45 degree air temps.  I could swear the rain felt like ice pellets hitting me in the face as we moved from spot to spot.  Thankfully, the walleyes were cooperative, and the steady action throughout the morning kept our minds off of numb fingers and soggy shoes.  We were also entertained by the toughest northwoods family I have ever seen as they all jumped in the lake for a swim.  Tough or crazy???!!!  Walleye sizes in the morning ran small with a lot of fish between 12″ and 14″, and they were all released to get larger.  It's good to see so many up and coming fish which bodes well for this budding fishery.  All fish were caught on a jig & leech as well as slip bobbers with leeches along weed edges in 9′ of water.  Water temps dropped steadily throughout the morning ending up at 72 degrees by noon.
We switched lakes in the afternoon and found a fantastic smallie bite despite weather conditions that continued to deteriorate.  Tom caught his personal best smallie, a plump 19″ fish that was coughing up crayfish on it's way into the boat.  We boated fish steadily throughout the afternoon on drop shot rigs with Gulp!, slip bobbers with crawlers, as well as jig & leech combinations in 15′ of water over hard structure.  Water temps continued to plummet throughout the day, and the last reading I had was 68 degrees at the boat landing.  Tom kept a positive attitude and sense of humor throughout the day, and he was rewarded with the most walleyes and largest smallmouth he has ever caught.  Great job Tom!