Hayward, Wisconsin Fishing Report 6-26-13
We've begun the week with hot weather, steadily rising water temps, and a lot of noticeable changes on our lakes, but the fishing continues to be outstanding!
On Monday, brothers Coleman and Jacob Franchek from Houston, Texas along with their cousin Stuart Summers from Portland, Oregon joined me for an enjoyable day of walleye and smallmouth fishing.  Walleyes ranging from 15″ to 20″ were caught on slip bobbers with leeches along with jig and leech combos in 12′ to 15′ of water.  There has been a huge mayfly hatch, and the the bite was not as aggressive as it has been.  The fish are still there, and if you know you're on fish, hang tight.  They'll bite!  In the afternoon, we switched gears to smallmouth, and the boys had their hands full with smallies ranging from 17″ to 18″.  Water temps rose to 69 degrees in the afternoon.
On Tuesday, Fred Earley and his son Travis from Iowa were in the boat for their first trip to northern Wisconsin.  Their trip started out right as they boated several walleyes in the morning.  Again, slip bobbers with leeches along with jig and leech combos were working in 12′ to 15′ of water.  The bite is definitely slowing, but if you hang in there…you'll get fish.  We'll probably start transitioning to crawler harnesses in the near future so we can cover more water to locate willing biters.    Our walleyes ranged from 14″ to 20″, and they're all fat and healthy.  In the afternoon we switched gears to bass.  Travis started out by landing one of the biggest largemouth bass I've seen in this country for quite some time.  It taped out at 21.5″ with an incredible girth.  What a fish!  We finished the day catching smallmouth on wacky worms in 3′ to 6′ of water adjacent to spawning areas.  Smallies ranged from 12″ to 19″ in the afternoon and water temps soared to 74 degrees by the end of our day.  I'll be fishing with the "Female Half" of the Earley gang later in the week, and I'm looking forward to it.  They guys put on one heck of a show, but I have a feeling the girls will have something to say about that!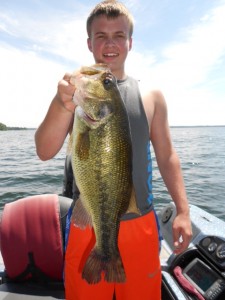 Pete Iaria traveled north from Indianapolis, Indiana to join my father (Jim) for a day dedicated to smallmouth fishing on Wednesday.  Jim and Pete played together on an outstanding 8th grade football team for Little Flower Jr. High in Indianapolis during the 1961 season that was coached by my grandfather, Lee Evans.  This team is legendary in the Indianapolis area with many of the kids going on to extremely successful high school and college careers.  This was also Jim's first outing of the year following recent knee replacement surgery, and it was obvious that he was anxious to work out the frustration of not being able to fish all spring.  Dad and Pete simply wore them out, catching fish after fish throughout the day.  It was incredible!  We definitely were into a post spawn feeding frenzy with several fish in the 20″ to 21″ class.  Wacky worms and suspending Rapalas were all that was needed to put one heck of a day together.  We also bumped into a few bonus walleyes that were feeding on the wind blown shorelines in 4′ to 8′ of water.  Apparently, even walleyes like wacky worms.  Maybe we're onto something…  Water temps held consistent at 74 degrees on a muggy day with storms passing around us as we fished.  It was great to get my dad back on the water and watch two old buddies reconnect.  Awesome!