Hayward, Wisconsin Fishing Report 6-16-13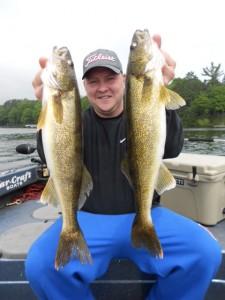 I celebrated Father's Day weekend with two incredible father and son trips.  Nate and Nick Gove from Crystal, MN hopped in the boat with me on Saturday for a day of walleye and smallmouth fishing.  Our plan was to fish walleyes in the morning and switch to smallies in the afternoon.  I love it when a plan comes together!  We boated 12 nice walleyes up to 20″ along with 3 pike.  Water temperatures were consistent around 66 degrees, and all of our fish came in 11′ to 13′ of water on slip bobbers and leeches.  In the afternoon, we boated 20 smallies up to 20″ as Nate and Nick put on a clinic.  It was fun to watch and a pleasure to be a part of.  All smallmouth were caught in less than 8′ of water, and there are still many fish on nests.
On Sunday, I teamed up with Terry Wilson and his 10 year old son Mitch.  Walleyes were on the agenda, and we fished them in shallow weeds with jigs and leeches.  We landed several nice fish in less than 5′  of water with the largest being a fat 20″ reeled in by Mitch.  After lunch, we switched gears and landed more crappies than we could count.  Sizes ranged from 5″ to 11″ with all fish being landed on slip bobbers and jigs in 6.5 feet of water.  Mitch is a very fine fisherman, and I was impressed with how well he did today.  Not many 10 year olds can put on a performance like he did.  He started the day with crappies being his favorite fish, but now he is torn.  Walleye fishing isn't bad either!  Water temps for the day were 66 t0 67 degrees with strong southwest winds and several storm fronts moving through to the north.  We managed to stay dry with mostly sunny skies and warm temperatures.
Happy Father's Day to all great dads out there!