Nate's Grilled Northern Pike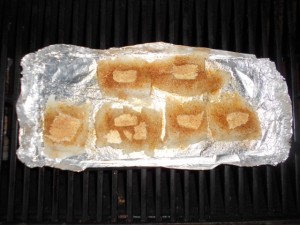 Tired of fried fish?  My good friend Nate Berg from Babe Winkelman Productions shared this simple but outstanding recipe for grilled northern pike with me that has been a huge hit in my house.  This is a great way to make good use of those pike in the mid 20″ range that we periodically run into throughout the season.  Thanks to Nate for a great recipe.  Enjoy!
Cut boneless pike fillets into 4″ chunks.

Make a tin foil boat large enough to hold your fillets.  If using more than one fillet, 2 boats may be necessary.
Coat the bottom of the boat with non-stick spray.
Spread fillets in boat.
place a small pad of butter on top of each fillet.
Season fillets to taste.  I have been using a combination of sea salt, black pepper, garlic powder, and cayenne pepper/cajun seasoning.
Heat grill to 425 degrees.
Place foil boat in grill, close grill and cook for 10 minutes or until fish flakes.
Grilled broccoli and brown rice make perfect side dishes to complete the meal.