This was no longer the post spawn situation we had prepared for.  The game had now changed, and we needed to re-think our approach.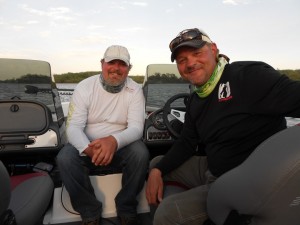 Musky fishing is about the journey, not the destination.  At least that's the philosophy any die hard musky angler needs to have in order to pursue these evasive predators that show no mercy to even the most accomplished anglers.
When Dave Brown and Mike Keyes from Keyes Outdoors invited me to explore a new musky lake in the Corn Belt of America, I couldn't resist the opportunity.  After an extremely long winter I was ready for a little sun on my skin and eager to chase muskies that hadn't seen the kind of pressure the fish in the upper mid-west have become accustomed to.  In true Keyes Outdoors fashion, we were going to a little known lake off of the beaten path in search of giant muskies that few had laid eyes on.  The boys had done their research and were confident that we would connect on a giant post spawn lunge.
After driving through the night, we grabbed a hotel room and took a quick nap.  By noon, we were on the lake and fishing.  We were greeted with temperatures in the low 70's with a west wind and water temps in the high 50's.  This was a little cooler than anticipated, and we immediately became suspicious that the spawn hadn't yet completed.  We focused on points and breaks adjacent to likely spawning areas and three small fish followed with little interest.  Dave and Mike eventually seduced two lazy follows from fish in the mid 30 inch range right before dark.  This wasn't exactly what we had hoped for, but there was promise.  Two adult fish had been located, and were eager to get back  after them the next morning.  A full belly and a good night sleep was all that was needed.
After evaluating the information we had gathered from the day before, moving shallower was the popular thought.  Water
temperatures indicated we may be dealing with spawning fish, and it was certainly worth a look.  There was a creek running into the lake that dumped into a shallow marshy bay.  If fish were spawning, this was a likely spot.  I was throwing a Musky Innovations Shallow Invader, and had a mid 30's male charge in almost immediately.  He turned away as soon as I entered my figure eight, but this was encouraging to say the least.  As we poked and prodded through the shallow bay, Dave spotted a large fish cruising in less than two feet of water as well as a smaller fish along with it.  Our suspicions were confirmed.  This was no longer the post spawn situation we had prepared for.  The game had now changed, and we needed to re-think our approach.
Dave changed lures to a small Bull Dawg and dropped one in front of a cruising fish.  The fish turned and followed the bait half way back to the boat before veering off.  We were definitely on to something here.  Mike and I followed suit with changing our lures.  Mike changed to a  Spring Dawg, and I tied on a Dozer (a Spring Bull Dawg with an in-line spinner blade attached to the nose).  As temperatures soared into the 90's with a strong southwest wind, the combination of plastics retrieved with medium speeds definitely got the attention of these fish who were understandably preoccupied.  Surface temperatures rose into the mid 60's by the afternoon, and we fished throughout the day with numerous follows from fish ranging from the low 30 inch range all the way to super tankers easily topping fifty inches.  The follows were all lazy however with most fish well behind the bait and showing very little interest at boat side.  One of us would occasionally switch lures to test the appetite of the fish, but it always came back to the Dawg.  We had several amazing encounters with large spawning females as they pushed their way into spawning habitat in less than a foot of water.  At one point, I could have sworn I was looking at the dorsal fin of a Great White shark cutting through the water, weaving back and forth.  As the cameras were rolling, we approached and confirmed that it was a monster of a musky with a willing partner along her side ready to complete the instinctive ritual necessary to their survival.  Large fins protruding and slicing through water became commonplace as the day wore on, and we saw more big muskies that afternoon than I can remember seeing in most of my years fishing.  Mid-way through the afternoon, Dave had another lazy follow from a decent fish.  We had become so accustomed to this sight that I didn't move even though I was standing right next to him.  He was able to masterfully coax this fish, which was nearing 40″ , into grabbing his bait.  A short tussle alongside the boat ensued, and as I scrambled for the net the fish shook the bait.  A collective sigh could be heard.  So close…  After a few more hours of casting in extreme heat with several more fish seen, we decided to waive the white flag and live to fight another day.  Surely we would solve this puzzle tomorrow.
Morning came quickly, and we soon found ourselves back at the landing for our final stab at these corn country giants.  Cooler temperatures with north winds in the forecast had me concerned, and rightfully so.  We immediately returned to the spawning bay that had been productive the day before.  Our initial pass  resulted in a follow for each of us without any serious lookers.  After three passes through the bay, we knew it was time to search.  Time was ticking, and if we were going to put a show together it had to be now.  After locating another feeder creek with a marshy and stump filled inlet, Dave immediately spotted a cruising musky and we began casting.  As we worked out of the inlet into the main lake several fish were seen, but none of them showed any real interest.  As mid afternoon approached and water temperatures hit the mid 60's, an increase in fish activity encouraged us.  Dave had a mid 30's fish follow in his Dawg, and as it dropped behind the boat, I laid a Musky Innovations Tube in front of him.  He immediately snapped around, and I thought we were definitely in business.  After following the tube through two or three turns on a figure 8, he disappeared underneath the boat.  What was it going to take?!  This follow ignited a flurry of action over the next couple of hours that resulted in several sightings of fish that appeared to be getting increasingly aggressive.  Each of us had fish to the boat that appeared to be hungry.  It was only a matter of time.  As the activity became increasingly intense, I decided to snap on a top-water bait.  With water temps in the mid 60's, why not?  We moved into a small cove, and I pitched next to shore retrieving the Top Raider at a medium clip.  Fifty feet from the boat, a very nice musky bulged behind the bait, broke water, and made his intentions known.  This was a done deal.  I kept the bait on course, and just as I was ready to change directions into a figure 8, the fish spooked and darted off.  What a heart-breaker!  If ever I had seen a fish that was going to eat, that was it.
Mike and Dave didn't need to see any more.  They both switched to small TNT Tackle Triglides.  Dave was burning his in, and Mike was
using more of a steady retrieve.  It didn't take long for the fish to show their interest.  Dave had an incredibly hot fish race in and chase his bait through several turns on a figure eight before deciding better of it.  Mike had a very nice fish in the mid 40's follow in and turn at boat side before  swimming off.  I commented that there was no way we could come any closer to catching a fish without actually doing it.  This was crazy!  As evening set in, the activity slowed.  The afternoon major had been listed from 4:30 p.m. to 6:30 p.m., and I would have to confirm that it was spot on in this scenario.  By 8 p.m. we had conceded defeat, at least for today.
As we rode back to the hotel, it was a unanimous thought that this had been an incredible few days on the water.  The three of us had never seen so many large fish in such a short span of time.  Now that's saying something for the boys from Keyes Outdoors.  These guys do this for a living and have fished some of the best musky water in North America.  There's no doubt we have a job to finish, and I'm sure we will be paying those fish a visit later in the season when they will be ready to eat.  Thanks to Mike and Dave for an outstanding trip, great experience, and awesome memories.  It was a blast, and I can't wait to do it again.
Jeff Evans